Thinking about different ways to have a unique experience at Disney World?  Does the idea of an African Safari excite you (but not the cost or 12+ hour flight) or do you like animals in general?  Been to Disney World before and always wanted to have more time to take in Kilimanjaro Safaris?  Well, the Disney Wild Africa Trek may be just what you're looking for.  In this article, we'll provide our complete Disney Wild Africa Trek review, where we'll show you pictures, talk about some requirements that you MUST know about, hit the highlights on food, animals and more.
Some might say our review could be a little spoilery, but when you're going to drop some serious dough on this backstage tour, we figure you want to have a good idea of what your signing up for.  So, if you don't want to see some detailed images of the tour, you may want to turn back now.
If you're still with us, let's get to our Disney Wild Africa Trek review!
What to Know About the Disney Wild Africa Trek Before You Go
Price
The Wild Africa Trek will run you $189 during the off season and $249 during peak season (before tax) per person.  There is no lower price available for kids.  Remember that you must also have a valid park admission to get to the Wild Africa Trek.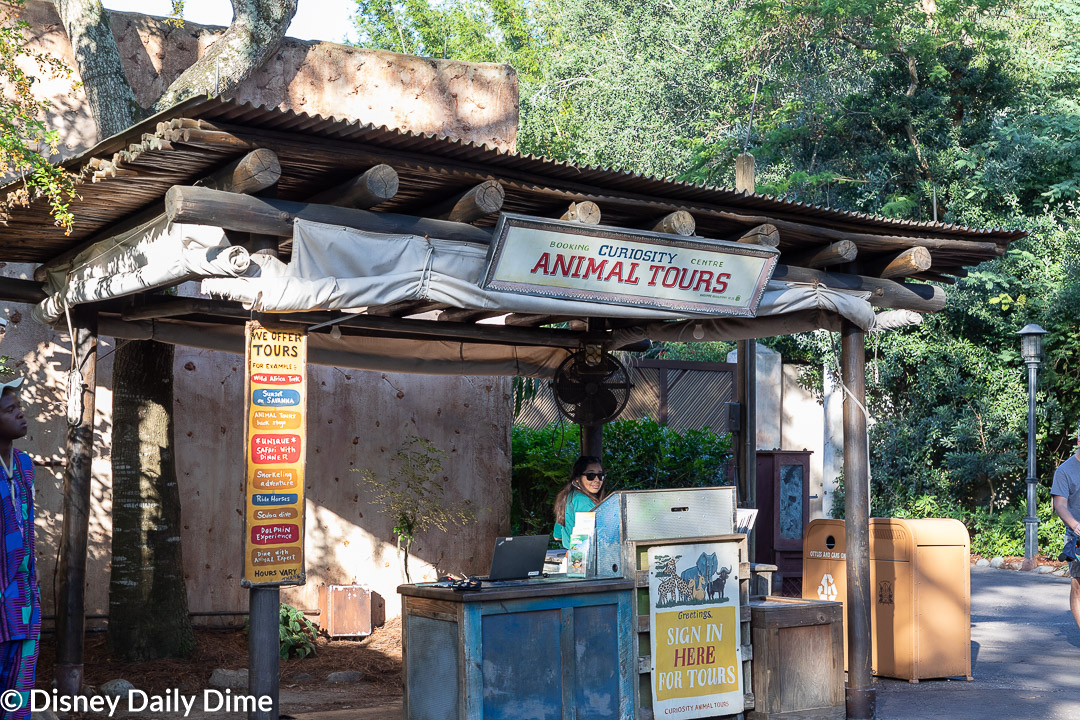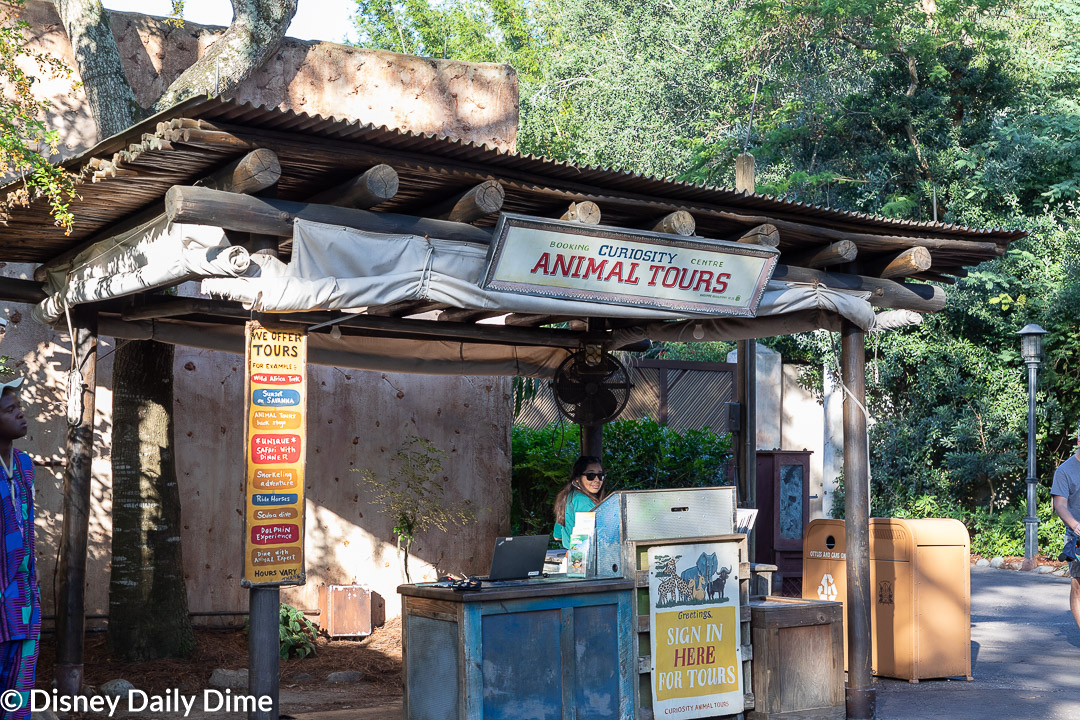 Reservations
To make a reservation, you must call Disney directly.  You can reach them at (407) 939-8687.
You can also make a reservation in the park for this tour (or other tours that are offered).  There is a tour booking center 10 paces or so from the entrance to Kilimanjaro Safaris.  You can see what the booth looks like above.  If you're facing the entrance to Kilimanjaro Safaris, the stand where you can make reservations is on your left and maybe slightly behind you depending on how close you are to the entrance.
Restrictions
There are a couple of restrictions associated with Disney Wild Africa Trek you MUST know about.  Otherwise, you could waste a lot of money.  We'll hit a few highlights, but you should review the Disney Wild Trek Africa Website for a complete rundown.
First, there is a weight restriction for this backstage tour.  As you'll see in a bit, you do cross two rope bridges and step out onto ledges with no barriers.  To keep you safe Disney uses harnesses to prevent you from getting face to face with a hungry crocodile.  However, these harnesses are only rated to 300 pounds (136 kg).  Thus, you can't be over 300 pounds.  This is 300 pounds with your clothes on, including shoes and everything.  They do make you weigh in, there is no boy scouts honor here.
There is a minimum weight restriction of 45 pounds.
The other restriction we wanted to mention involves age and there are two of them.  First, kids must be at least 8 years old to go on the Wild Africa Trek.  Second, kids under the age of 18 must have an adult accompany them.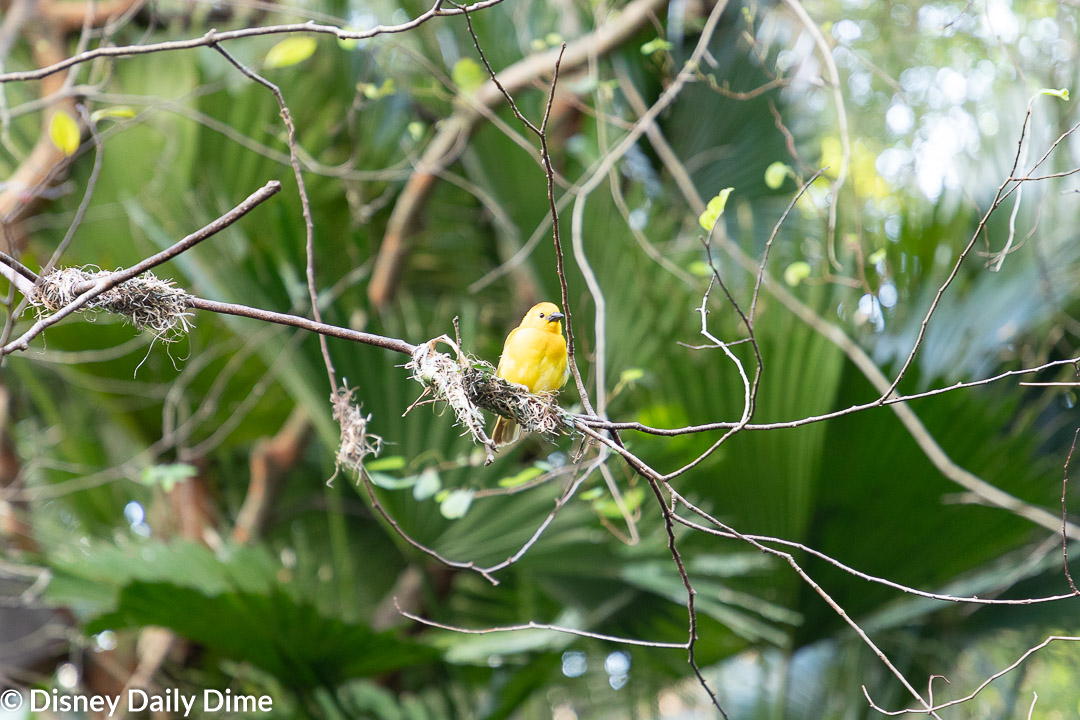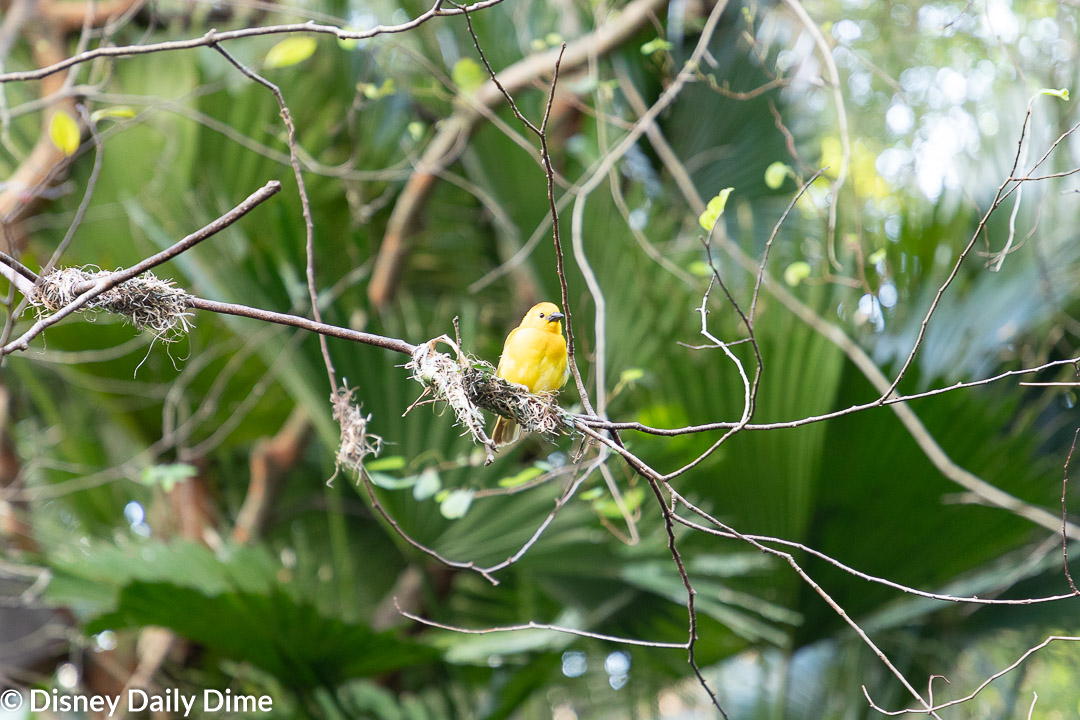 Physical Ability
Disney emphasizes that you need to be able to handle some moderate physical activity, which would be correct.  Straight from the Disney Wild Africa Trek website, Disney says "You must have physical stamina, comfort with heights, and the surefootedness to negotiate small hills, foliage and unsteady rope bridges on this tour."
Clothes
As part of our Disney Wild Africa Trek review we thought it was important to discuss clothing.  Disney has some rules you need to know to make sure you dress appropriately.  They require closed toes shoes, with a back strap.  They suggest long shorts or pants be worn.
For ladies, skirts and dresses are not allowed.  Note the Disney website says they are not recommended, however the welcome email you get says they are not permitted.  Once again, the Disney website is not quite up to date.
While not officially written in any guidelines we've seen, we're guessing if you're Scottish, you should leave your kilt back at home!
Do You Need a Camera?
You're paying a lot for the Wild Africa Trek, so you will want to remember it with pictures, right?  Of course, you do.  But do you need your own camera?  Not necessarily.  The guides have their own Disney issued camera and will take pictures throughout the trek to memorialize it for you.  At the end of the trek they will give you a card with a code on it.  You'll be able to go to the provided website and enter your code to retrieve your pictures.  Note that this card is not linked to you Photopass account.  The picture below is a sample of what our guides took with their camera.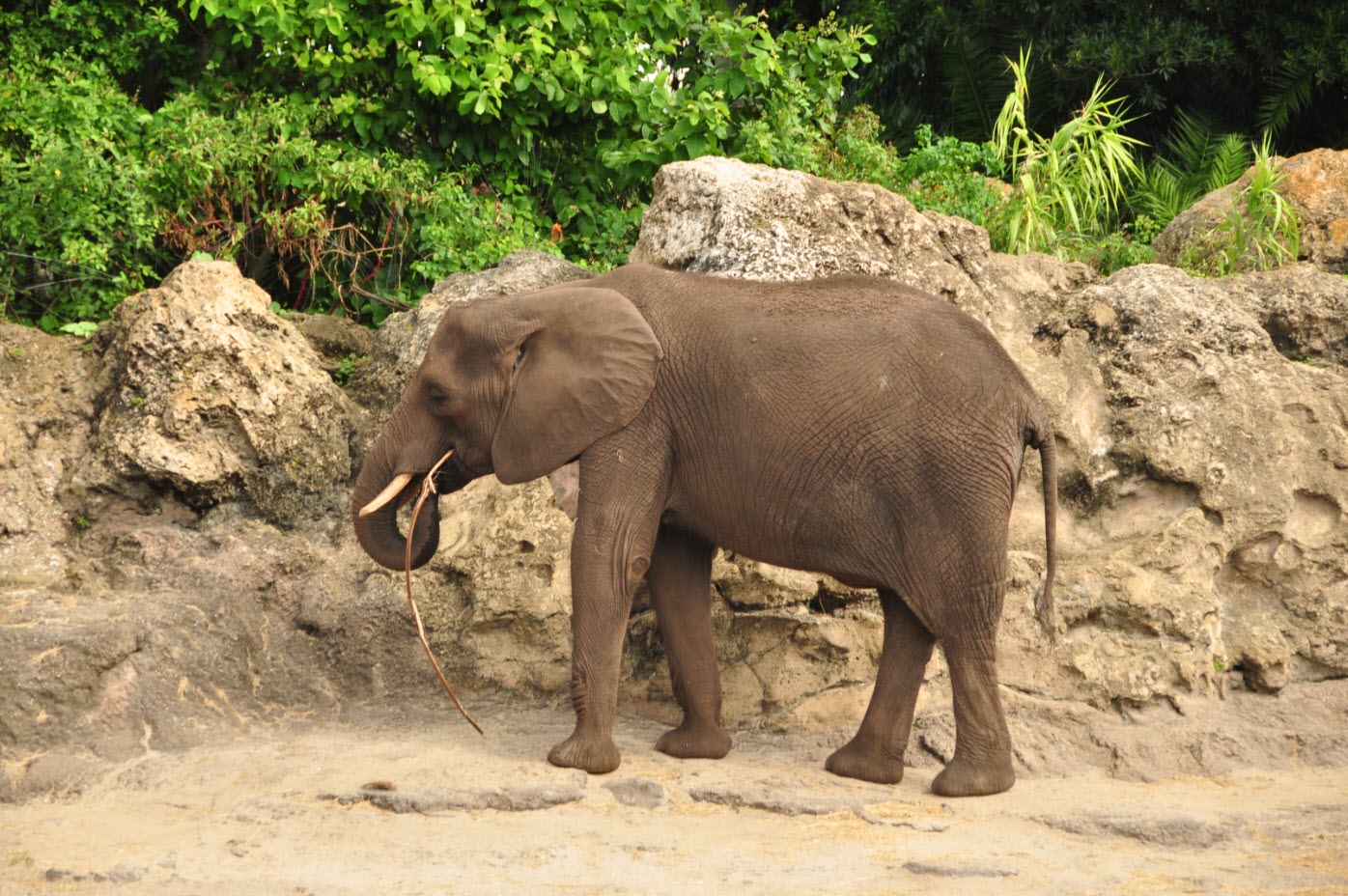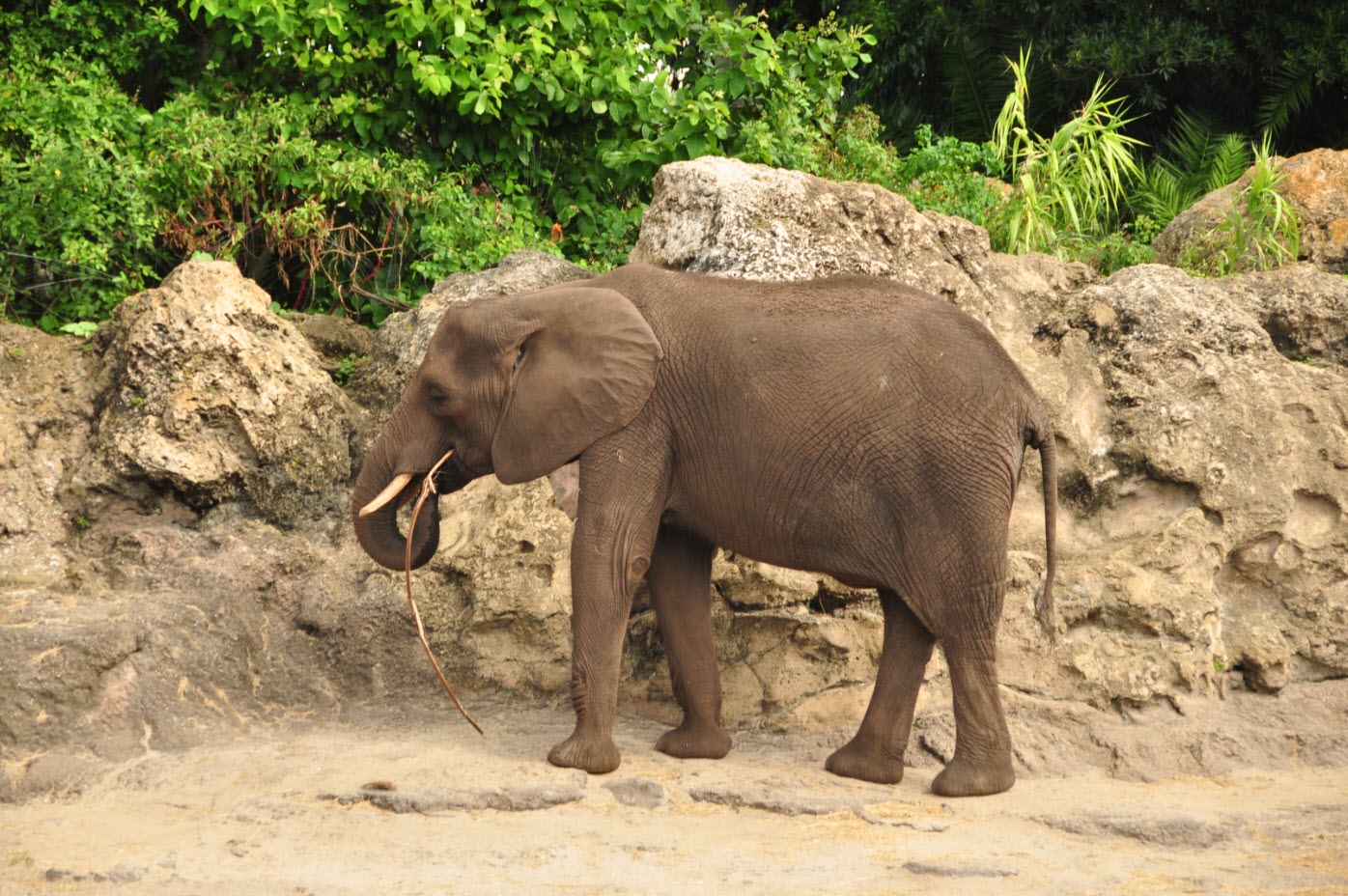 All in all, our guides took almost 200 pictures with their camera alone.  Now, many of these pictures were of people from the other groups in our Wild Africa Trek tour, but still there were ample pictures of the wildlife and me.
The guides aren't all star photographers by any means, but the pictures will be fine for 95% of the guests on the trek.  If you're really picky about your photos, then you probably should bring your own camera.
Think About the Weather
One other thing to think about before you go is the weather.  The hiking portion of the trip is over an hour and the riding portion is open air with no air conditioning.  The heat of the summer may cause more of a strain on your body, than say going in the middle of October.  If you do go in the summer, it may be better to book an early morning safari trek.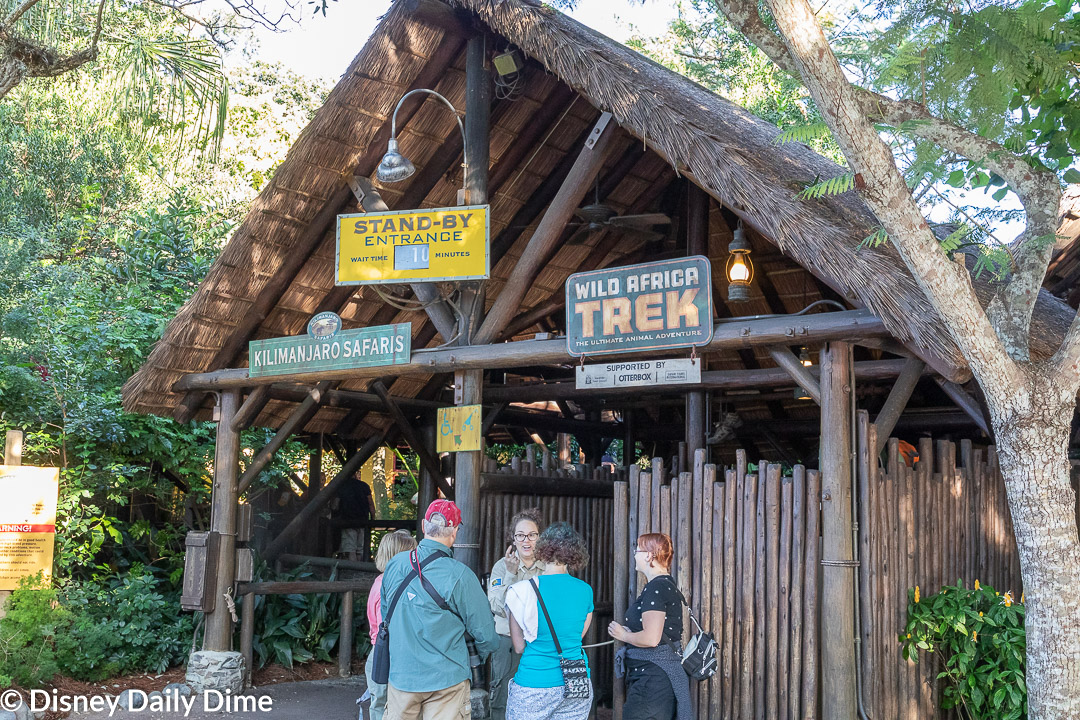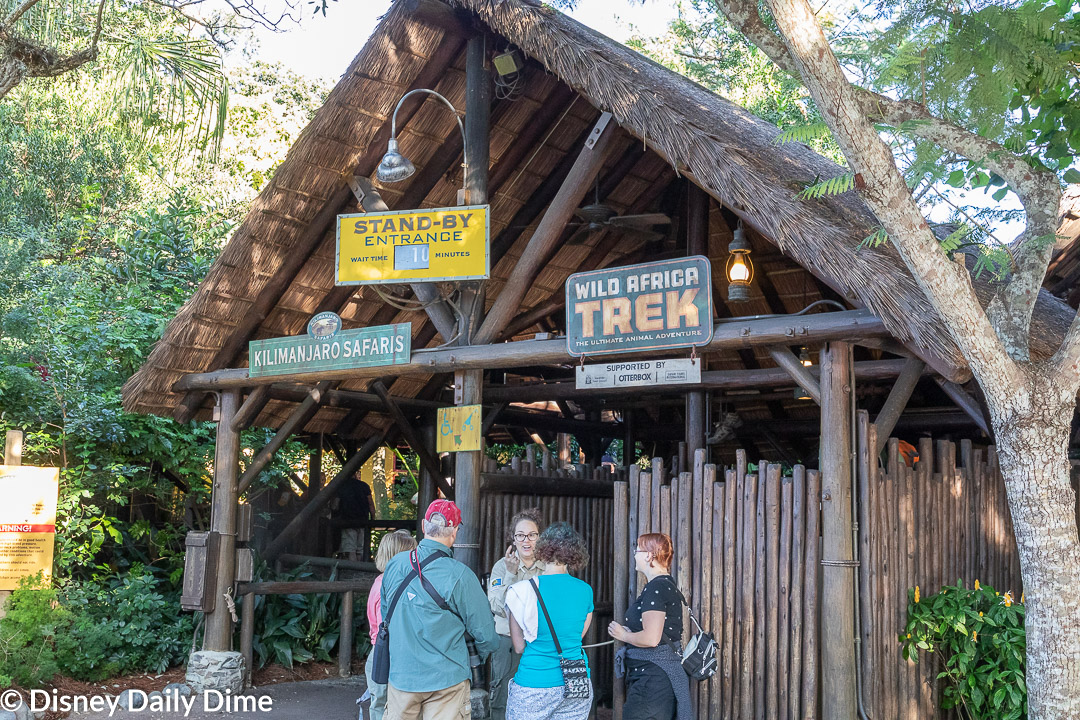 Tour Day Arrival
On the day of your Wild Africa Trek tour you need to be at the trek entrance 20 minutes prior to the prescribed time.  Note that this is not the park entrance, but the actual tour entrance.  Make sure you allow for a 15 minute or so walk to get through security and back into the park where the entrance is.
The Wild Africa Trek entrance is right next to the entrance for Kilimanjaro Safaris.  You can see how close to the entrance it is in the photo above.
When you show up, you will be greeted by a friendly tour check in guide.  They'll essentially make sure you and your whole party is there and go over some of the restrictions we've mentioned to make sure you qualify.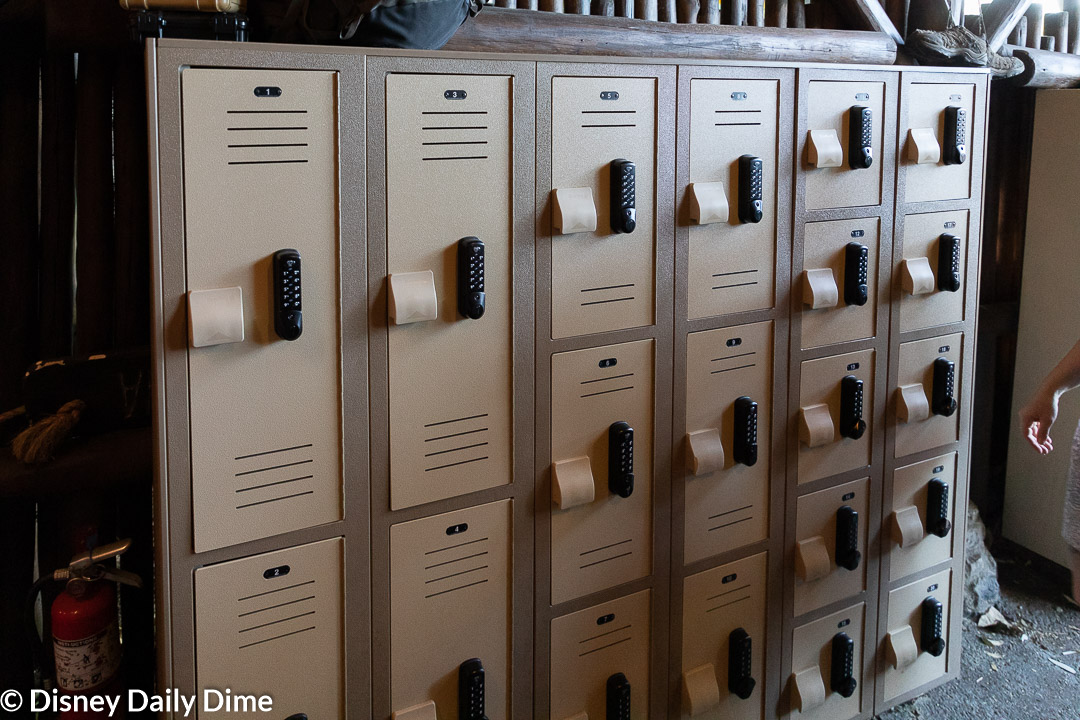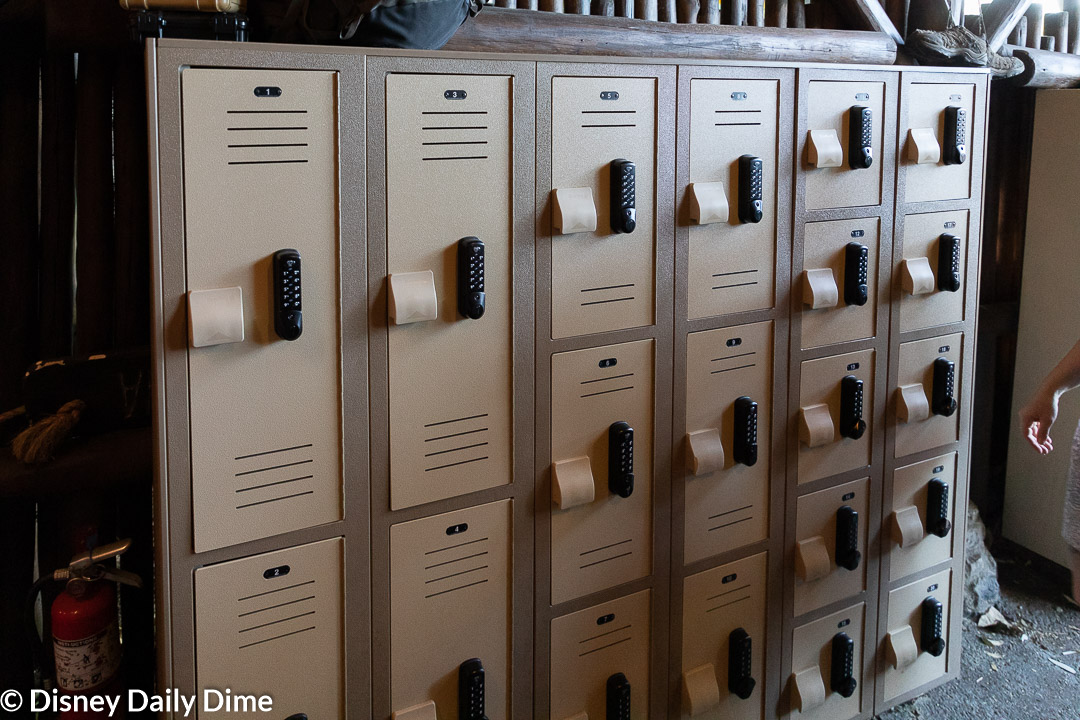 Be Ready for the Pre-Trek Prep
When you go inside the Wild Africa Trek prep area, you'll work your way from front to back.  Starting in the front, you'll be provided with a locker where you can store anything you are not allowed to bring with you.  Disney is very restrictive about what is allowed on the trek.  Basically, if it can't be attached or secured to your body, it can't come.
The lockers were of good size for most things.  There is one whole bank of smaller lockers and then another bank that is two rows of small lockers, two rows of medium sized ones and two large locker rows.  You can see the size of the lockers above.  I had my camera gear backpack with me and it fit into the medium size locker with no problem.  The lockers are free.
You'll have to sign waiver before you proceed to the back section of the prep area.  Skim it and basically release Disney from almost any and all liability should you actually come face to face with a crocodile.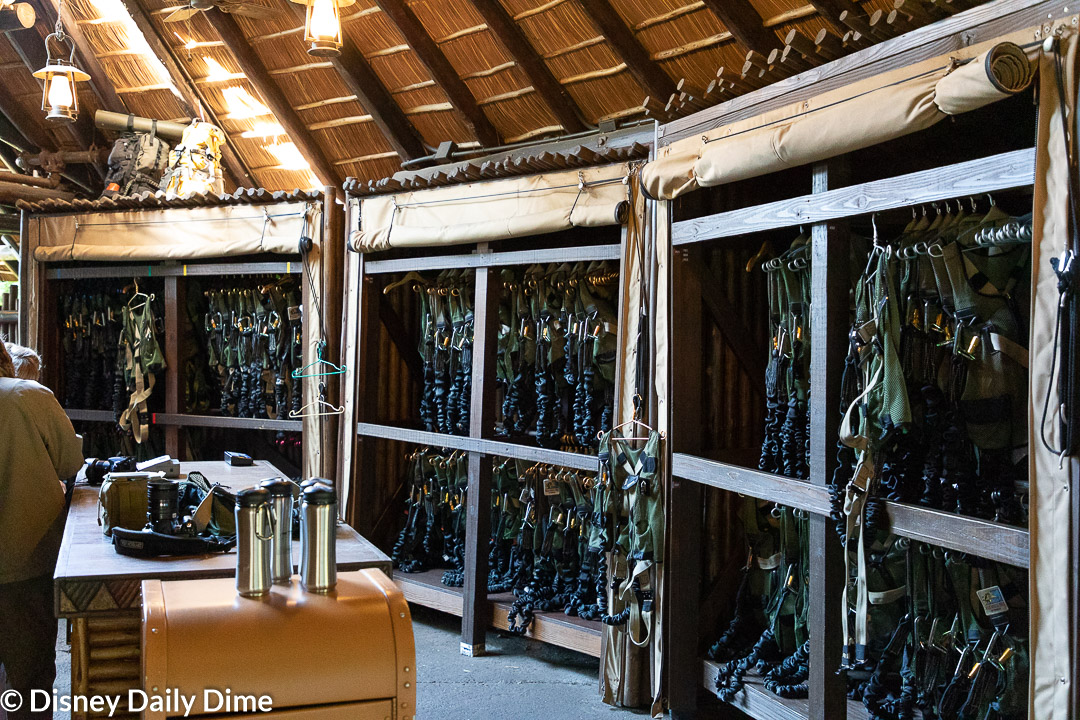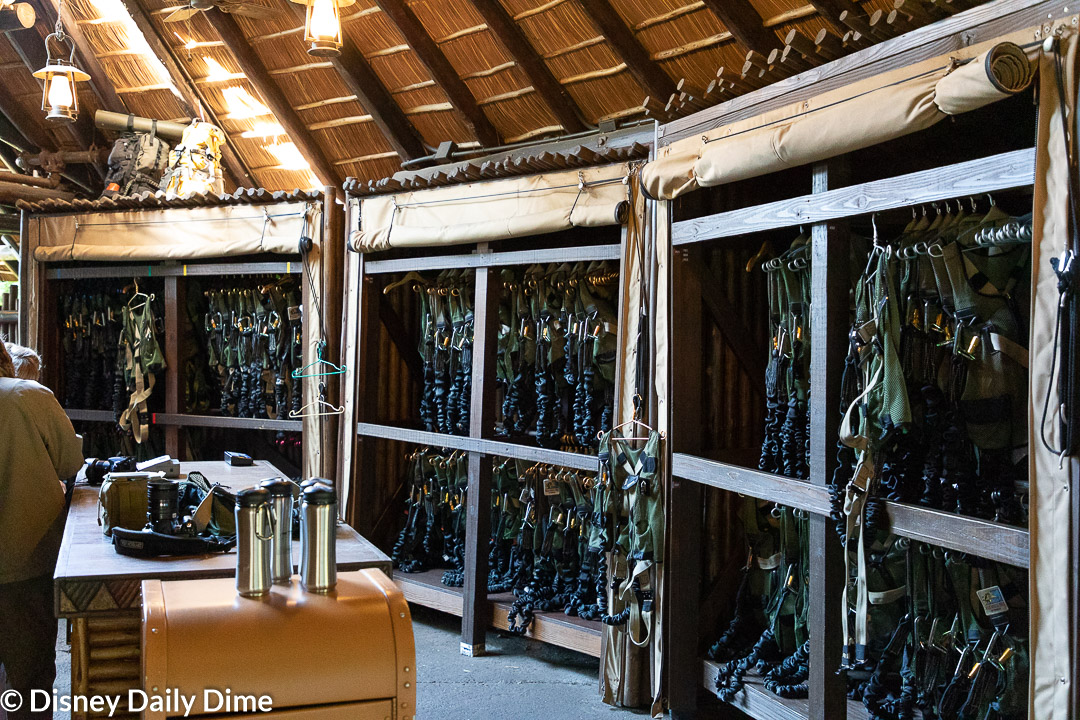 You'll next proceed to the harness/vest fitting area.  Before you get your harness though, you have to weigh in.  Disney is serious about the weight restriction.
You'll be fitted with one of the many harnesses they have for body shapes of all sizes.  The harness is not designed for comfort, but to protect you.  It wraps around your legs and up through your crotch area, so just be prepared.  Again, it's not here to make you feel comfortable, but keep you safe.  We will say, that after a little bit of walking, you kind of forget about it.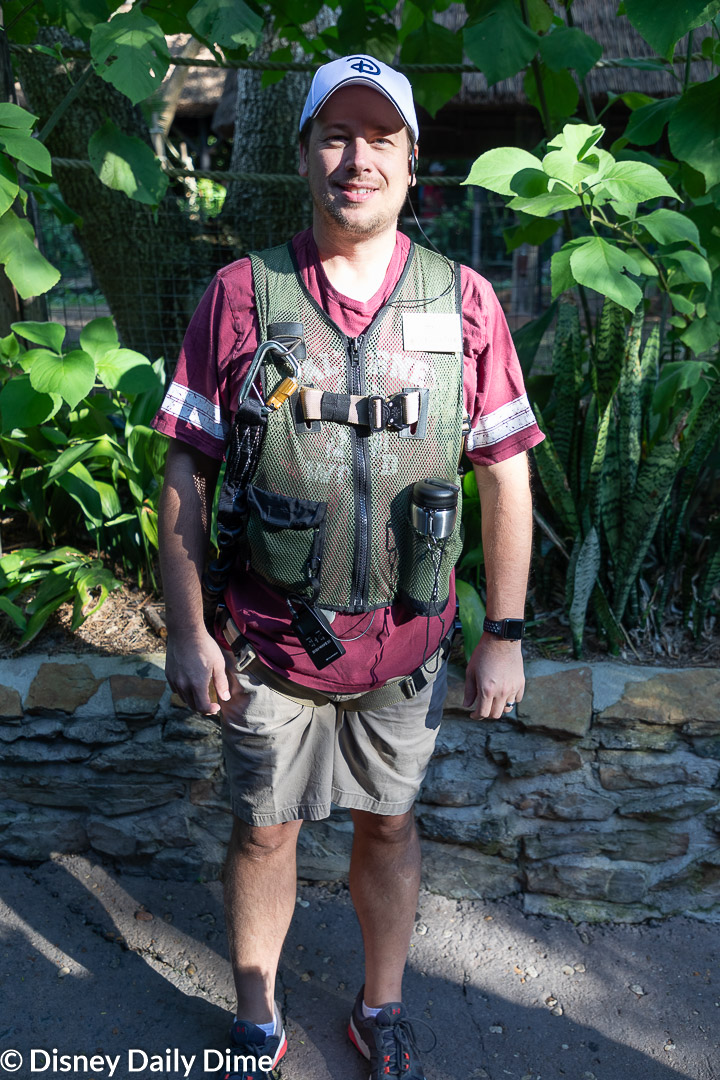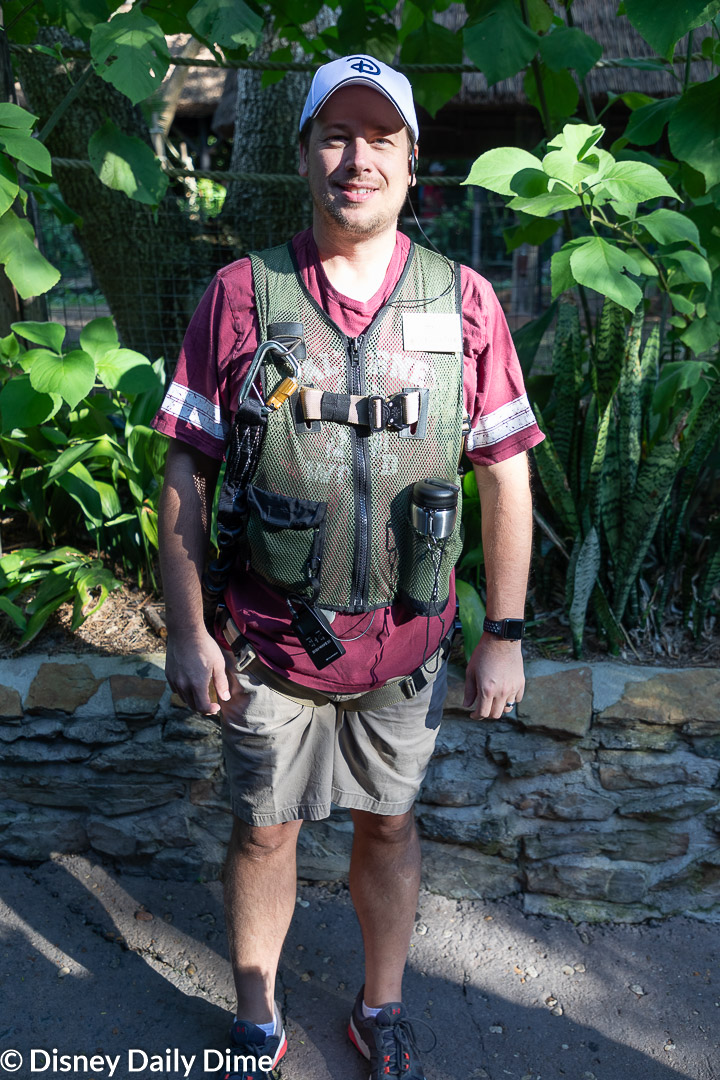 After your harness is on you are then fitted with a wireless listening device.  You have the choice of which ear it goes in.  You can see it in my left ear in the picture above.
Finally, you are provided with a canteen that you can fill with water and take with you on the trek.  The canteen is hooked to your vest to make sure you don't lose it.  Again, you can see the canteen in the picture above.
At that point your two tour leaders will give you a little prep talk on what you're about to do.  Once they finish the tour starts.
Your Wild Africa Trek Tour Begins
To start your Wild Africa Trek tour, you'll have to walk back out into the park as the trek actually starts on the Gorilla Falls Exploration Trail.  You'll stop in the aviary and the bug/insect exhibits for a quick discussion.
You'll proceed up the trail a bit further and then detour through a small gate that we've never noticed before when walking the Gorilla Falls trail.  From here the real tour begins.
The Wild Africa Trek is divided into three parts.  First is a walking trek, then a vehicle-based tour, and finally a meal (Disney calls it a snack).  The meal occurs in the middle of the tour, so the vehicle-based section is divided up.
Walking Trek
The walking portion of the Wild Africa Trek will get you up close with several of the animals within Kilimanjaro Safaris.  It involves some light hiking, climbing a 2-story staircase, and navigating two rope bridges among other things.  It will be the most physically intense part of the tour, but that's probably fairly obvious.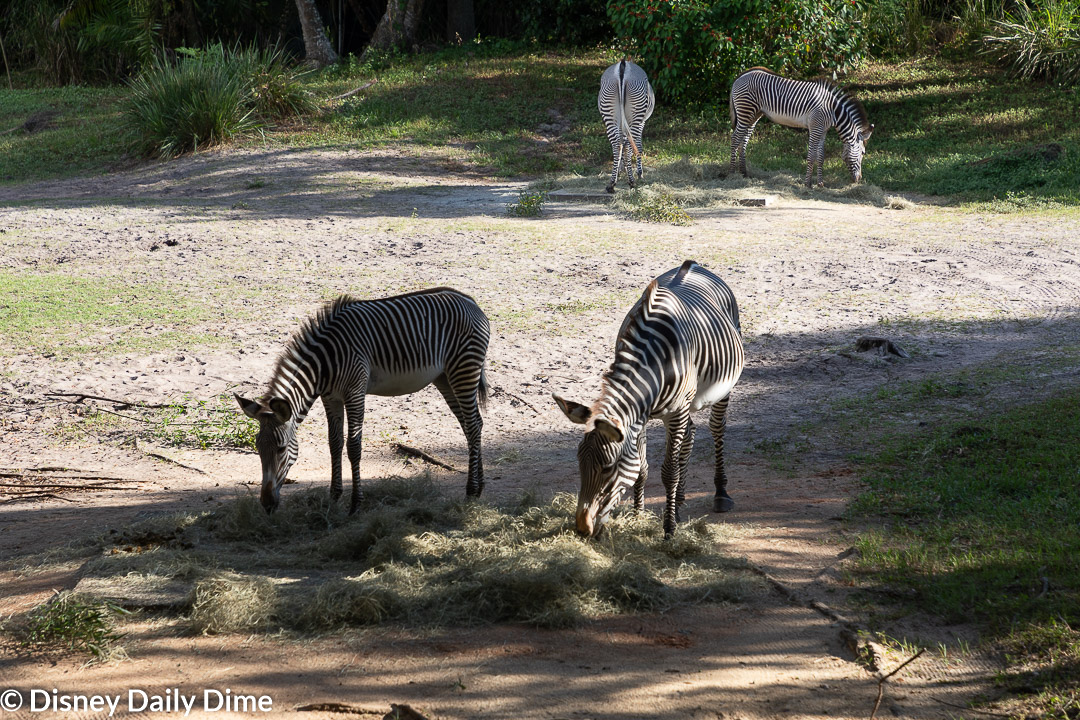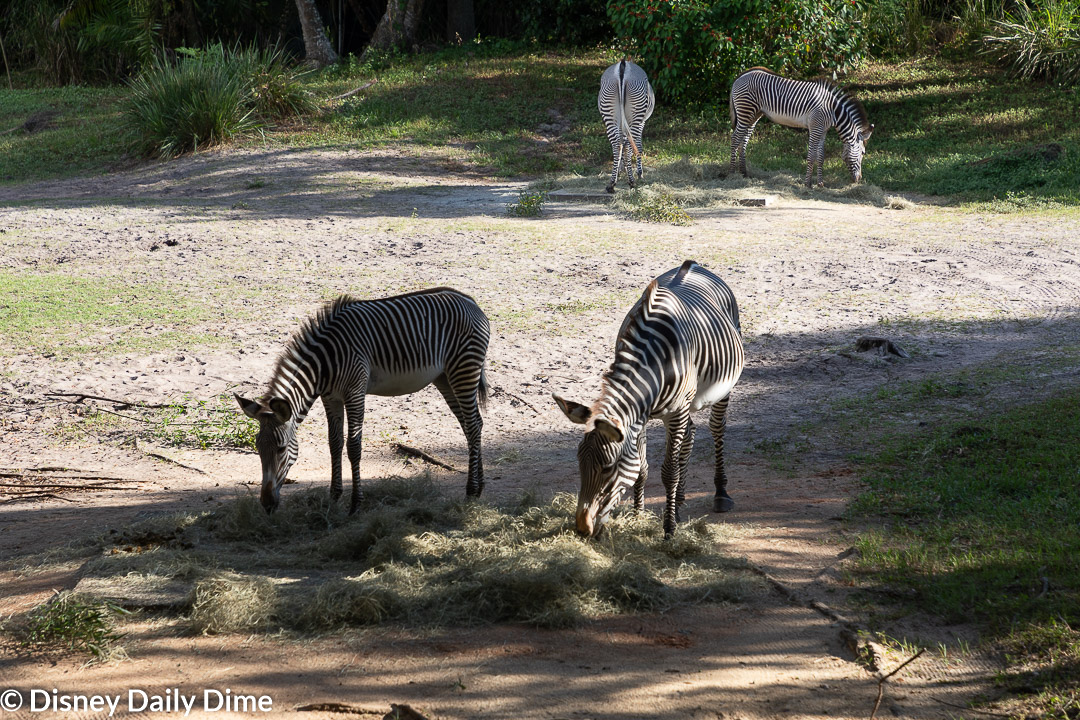 Zebras
Your first stop is a small area that backs up to where they keep the zebras.  They give you some fun little facts about the zebras and then you keep walking.
Hippo Ledge
Okay, so that's not really the name of this part of the Wild Africa Trek, I just made it up.  But I think it has a good ring to it, if I do say so myself!
As you walk up the trail, you'll be greeted by another Disney safari cast member.  In our case, it was Allison.  She works with the hippos on a regular basis and was there to talk to us specifically about them.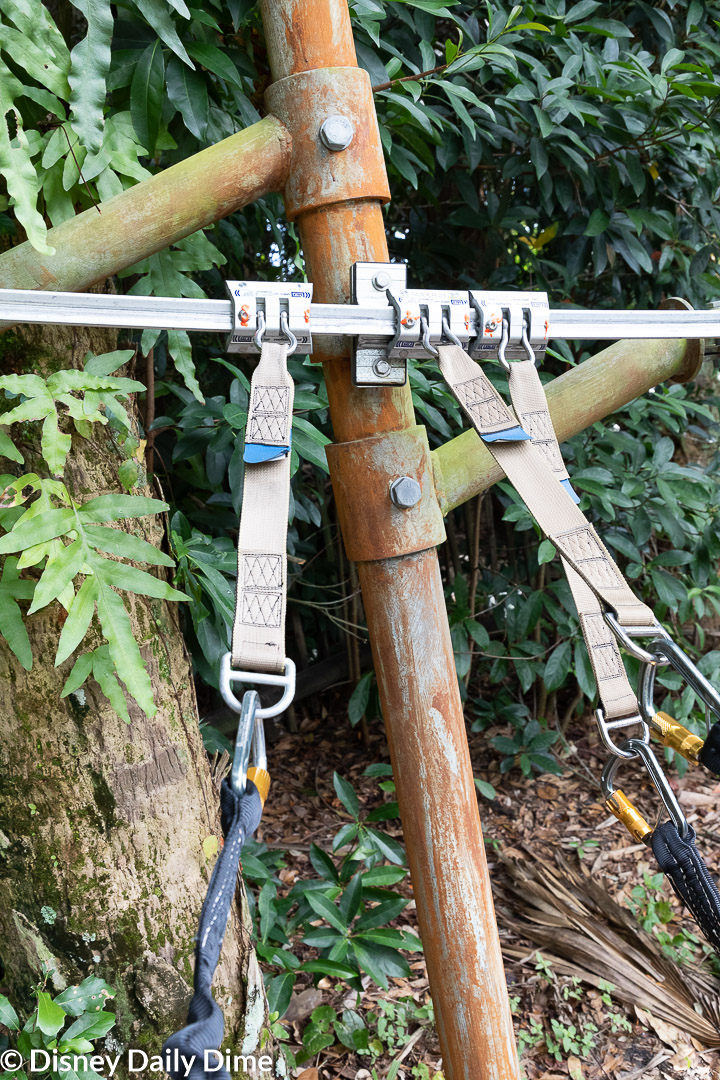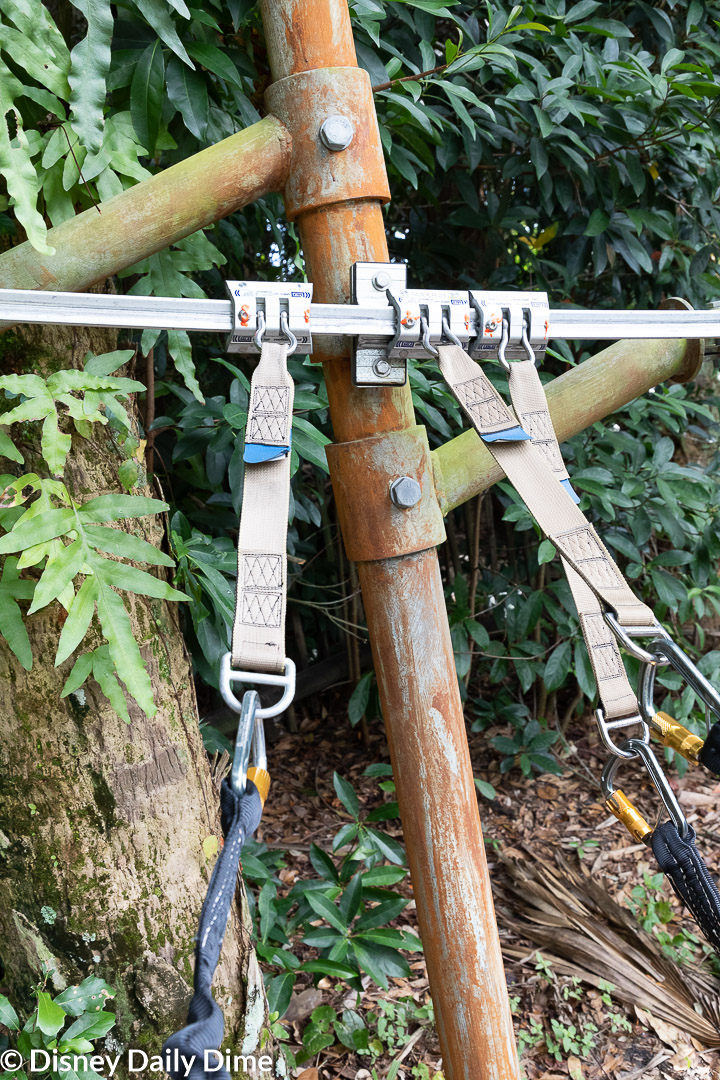 Before you go see the hippos, you strap into the harness clips.  Why would you need a harness to see hippos?  Well, because you are about to go out on a ledge that stands about 15 feet above the water they are in.  You can see what the harness system looks like in the image below.  The black part of the line is coming from your harness and clips to the restraint system.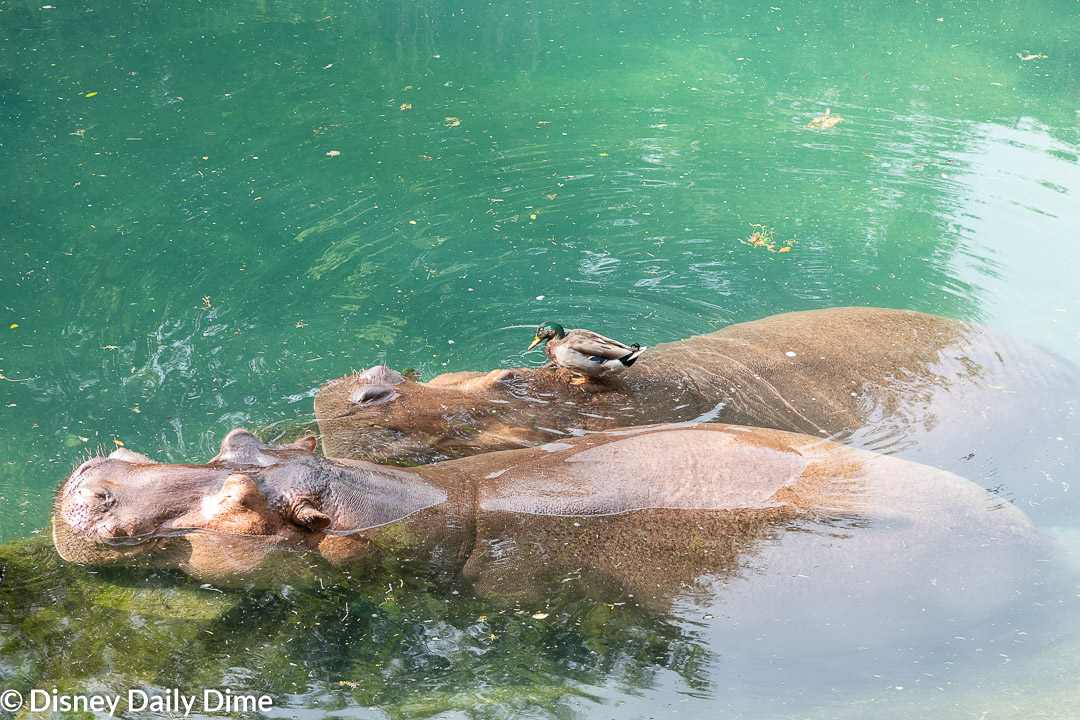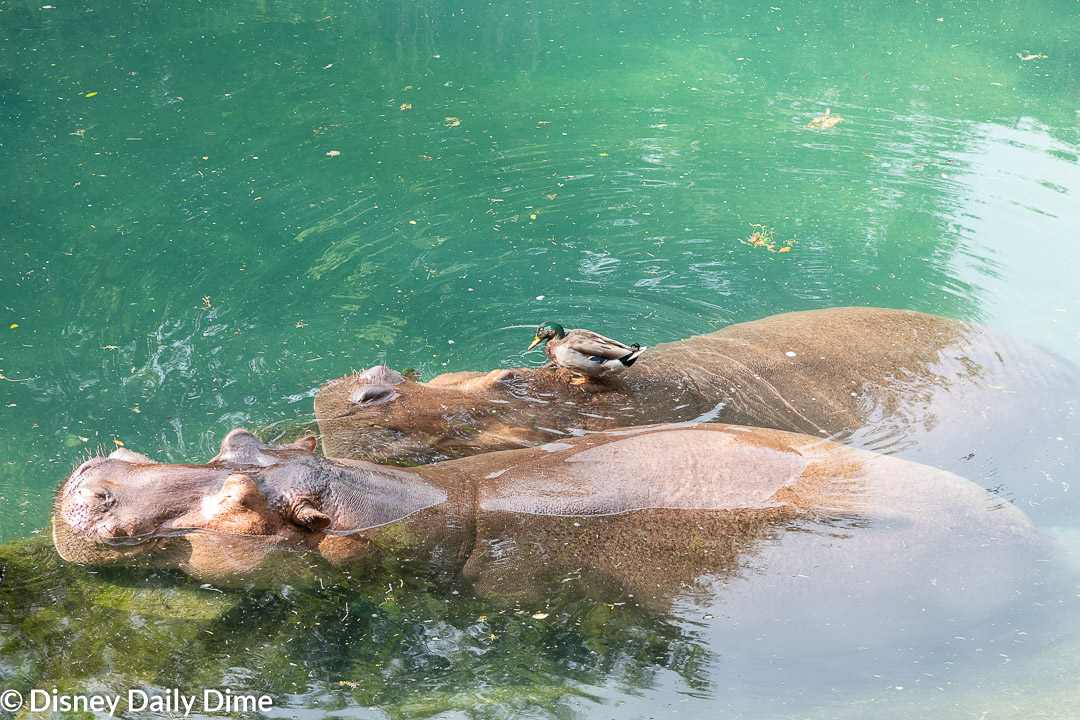 Allison tried to get the hippos to wake up and move around for us, but they were having none of it this day.  So, we stood and watched them, while listening to Allison tell us about the hippos.  I also wondered if one of them would try to eat this duck that swam around and stood on them.  The duck survived.
The Rope Bridges
After you depart the "hippo ledge" area you'll hike up to a tall wooden structure (see below).  You'll walk up the stairs where you will find the rope bridges you must traverse.  The first bridge will take you directly over more hippos.  At the time we did this, Animal Kingdom was celebrating the birth of a new baby hippo and she was out with her momma.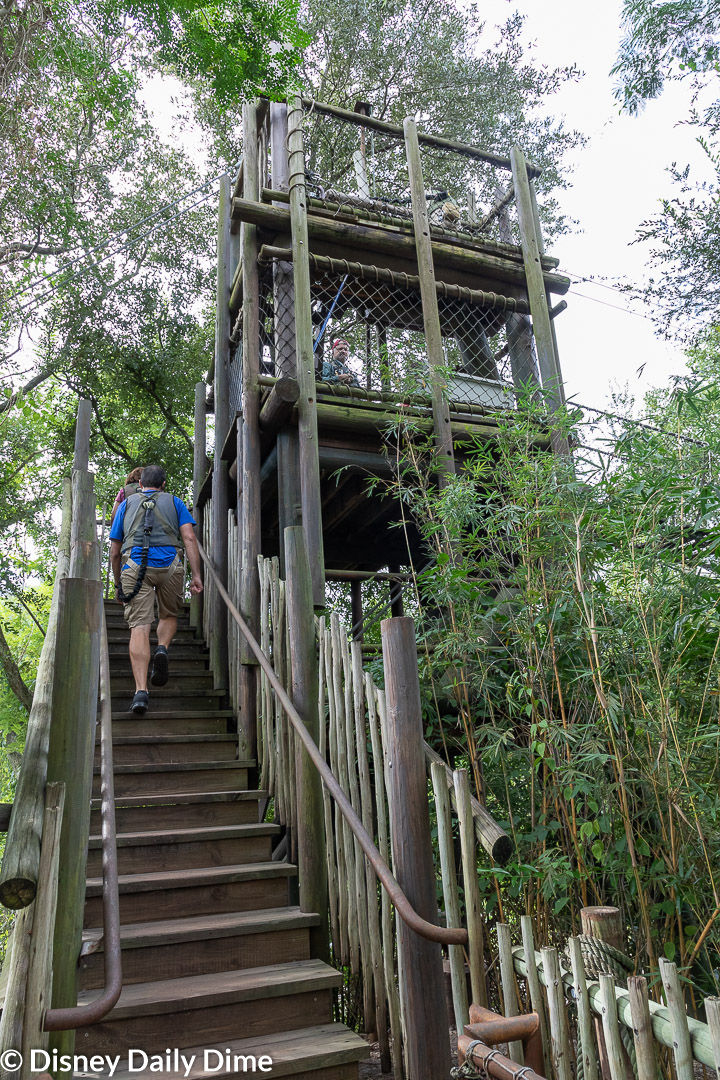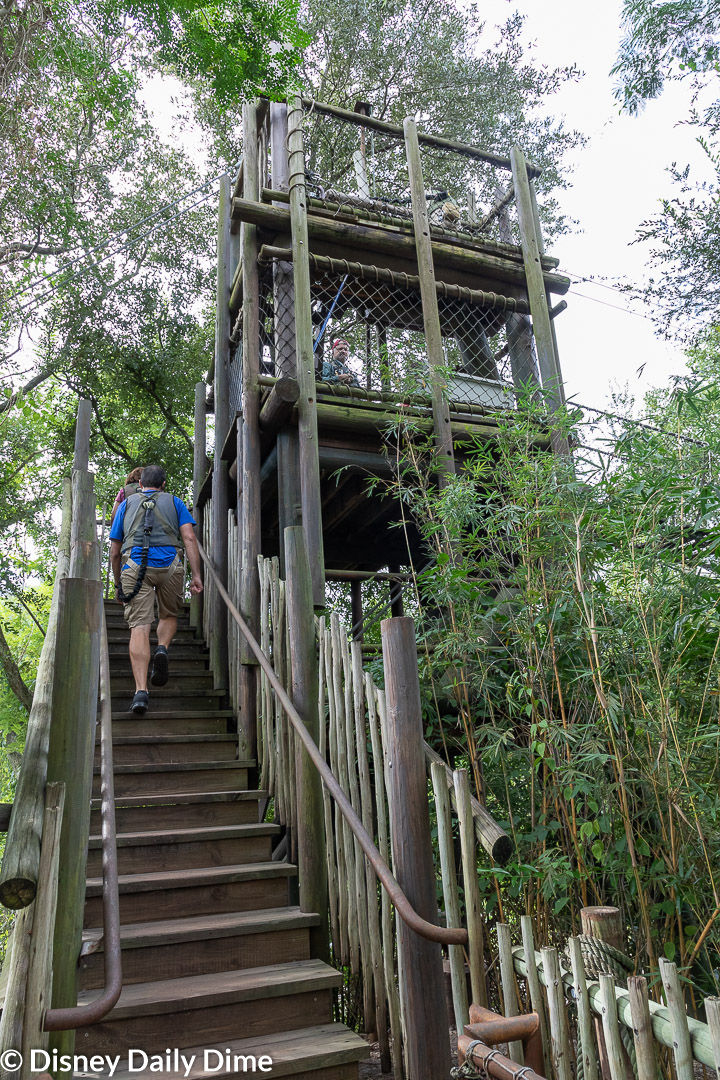 At some points of crossing the bridge, you may find yourself feeling like you are part of the Kilimanjaro Safaris attraction.  That's because the trucks for the attraction are driving by and invariably, the park guests are all pointing and looking at you crossing the rope bridge.  Below is a prime example of that.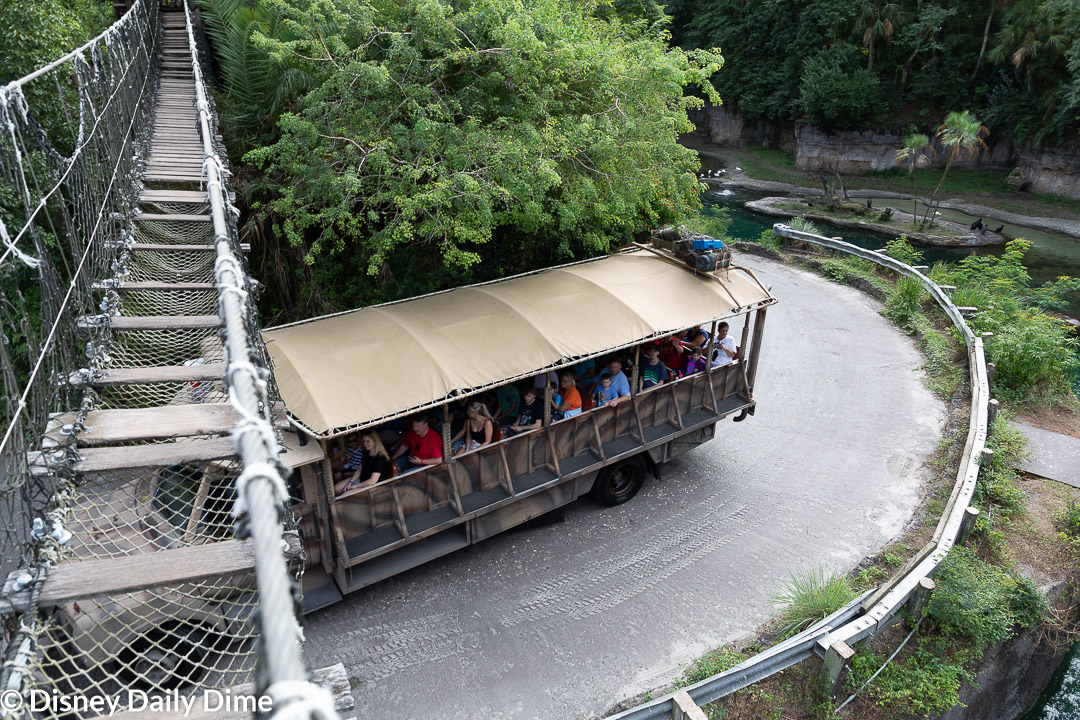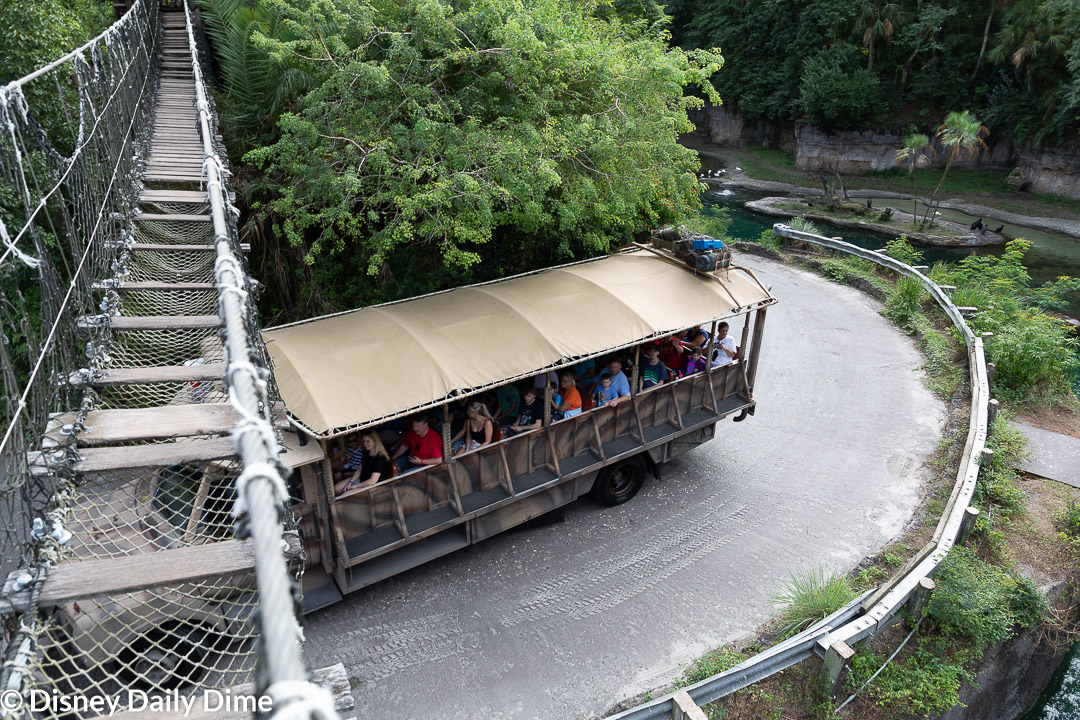 You'll traverse the second rope bridge and that will eventually lead you over the crocodile waters.  After you cross over the crocodiles, you'll then climb down from the end of the top bridge via a set of stairs.
The rope bridges are not for show or affect.  They will bounce and move.  They have planks missing out of them to give it more of a sense of authenticity, however the steps you have to make are not unreasonable.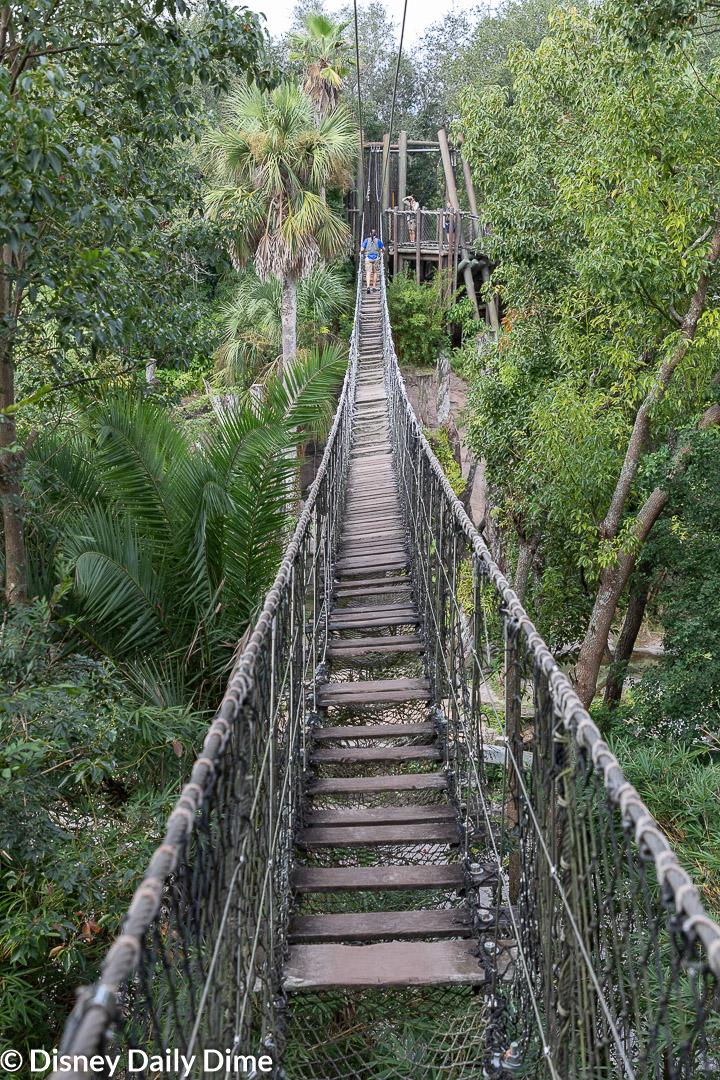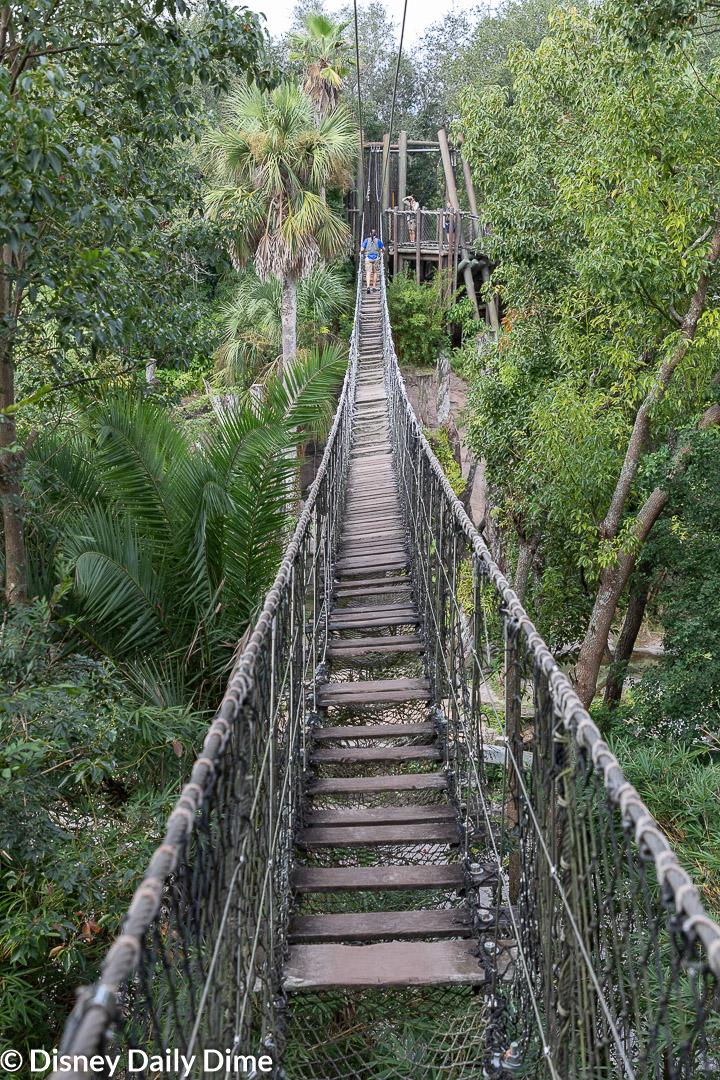 When you go out on the rope bridge, they only allow two people at a time to minimize the bounce of the bridge.  It also allows you to stop and look at the animals (and tourists).  The spacing was great because it didn't make you feel rushed.
Crocodile Cliff
Again, not an officially sanctioned Disney name, rather something I made up.
Once you descend from the top bridge, your encounter with the crocs isn't done.  You'll next hook yourself into another harness restraint and walk out onto another ledge without a barrier.  The crocodiles will be a mere 10 feet or so below you in their sanctuary.
A few fun facts about the crocodiles we learned.  First, all the crocodiles are male to prevent breeding.  They're attempting their own version of population control like Jurassic Park.  I thought about asking our guides if anyone went lifting up the crocodile's skirts to make sure, but didn't think they would get that reference since they were likely born after Jurassic Park came out in theaters.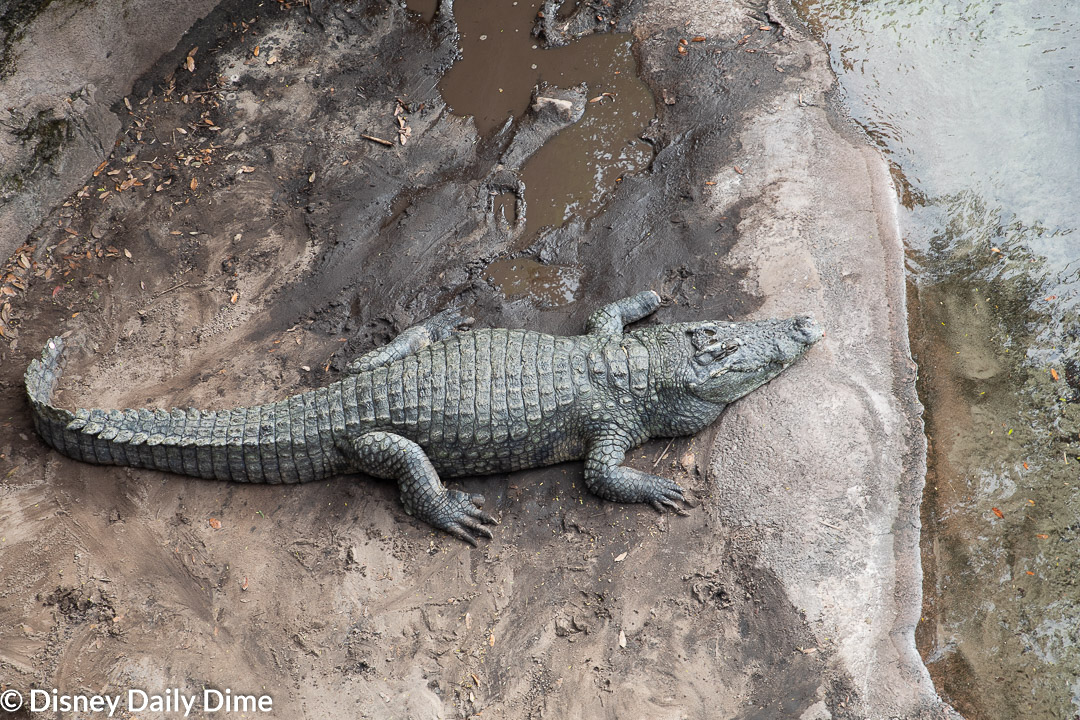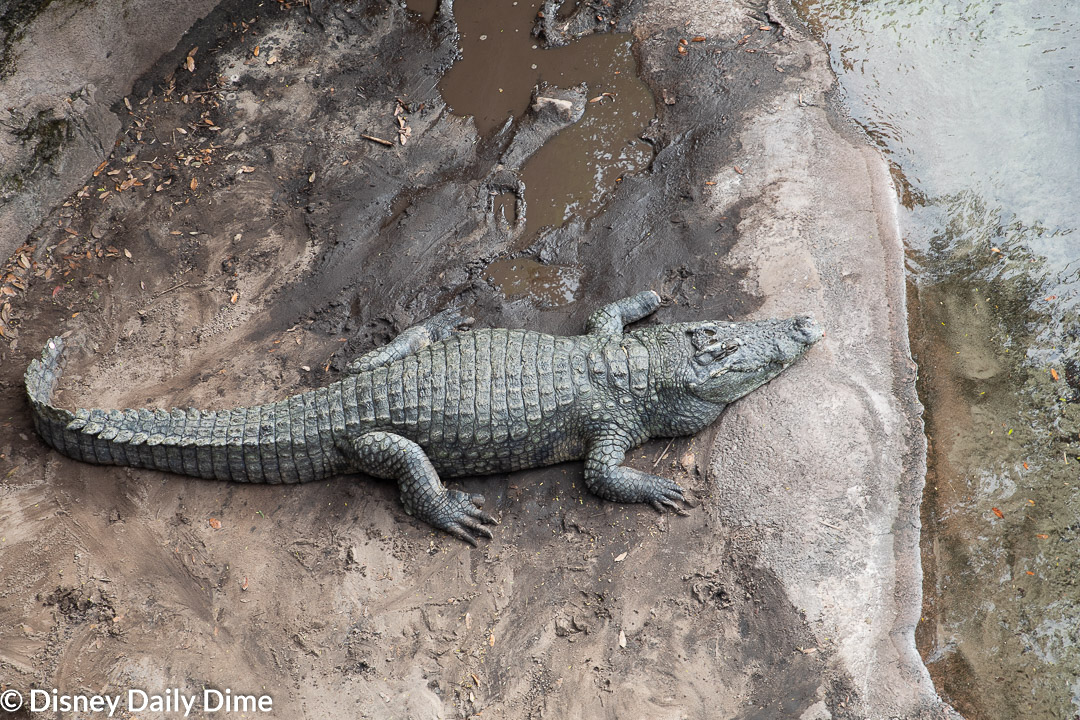 Second, the crocodiles do have a pecking order of dominance.  And when that is threatened, they may fight with each other with some severe consequences.  Notice the crocodile in the above picture missing his front left foot.
Once you are done with the crocodile cliff encounter, you'll be done with the walking portion of the Disney Wild Africa Trek.  You'll go down a path where you'll take off your harness, vest and hearing equipment.  You'll then board a large truck, like the one you see below for the riding portion of the trek.
All in all, the walking portion of the Wild Africa Trek took about an hour and 15 minutes.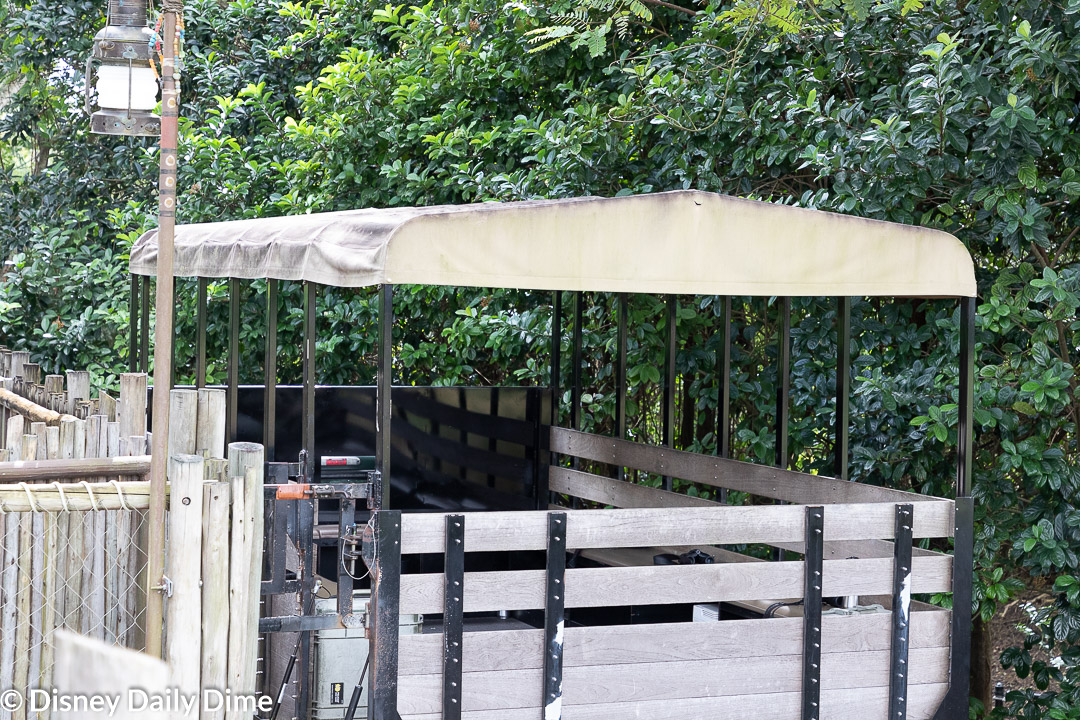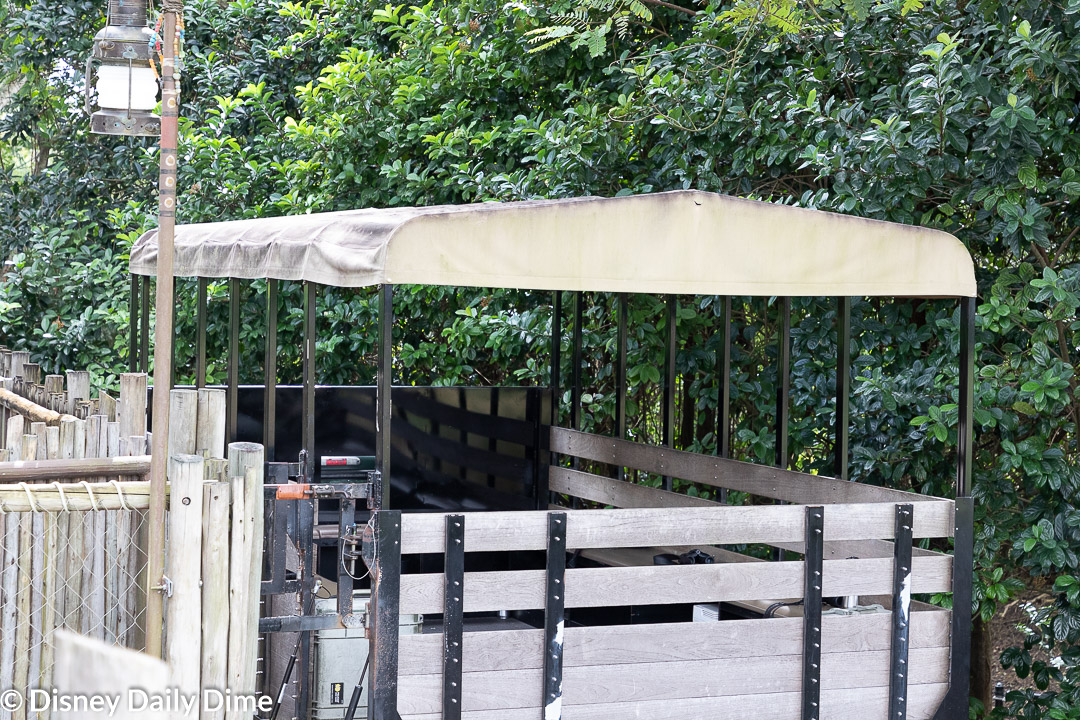 The Wild Africa Trek Safari Ride
When you board the truck above, you'll notice it's not the same as the trucks they use for all the riders in Kilimanjaro Safaris.  It's a wide-open flatbed truck where you will sit on a bench around the outside edges of the truck.  Its designed like this because the truck will make several stops where you will be allowed to stand up and walk around the truck to look at various animals.
The riding portion of the Wild Africa Trek is a lot like that of Kilimanjaro Safaris, but just at a slower pace with more rich detail and commentary from your guide.
You'll start by entering the plains of the safari where you have animals like the giraffes, wildebeests and more roaming around together.  We pulled over in 3 different spots to observe different animals on the savannah.  One of the most enjoyable parts was when we got to spend about 15 minutes observing the new baby giraffe that had recently been born at Animal Kingdom a few months before.  The baby is below here.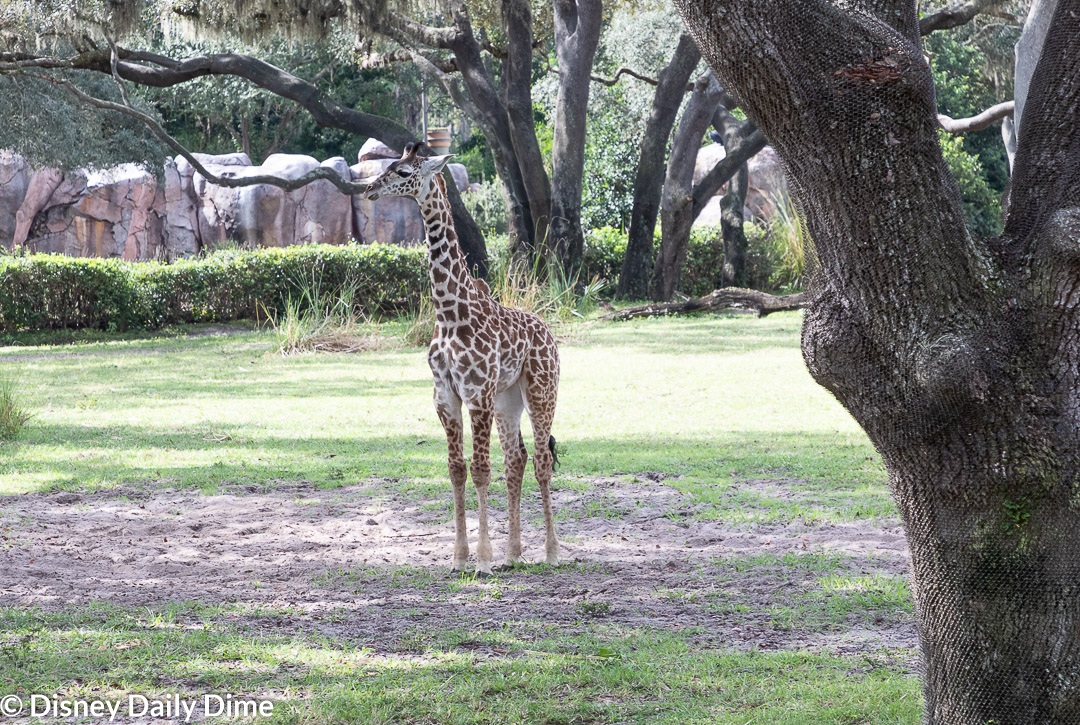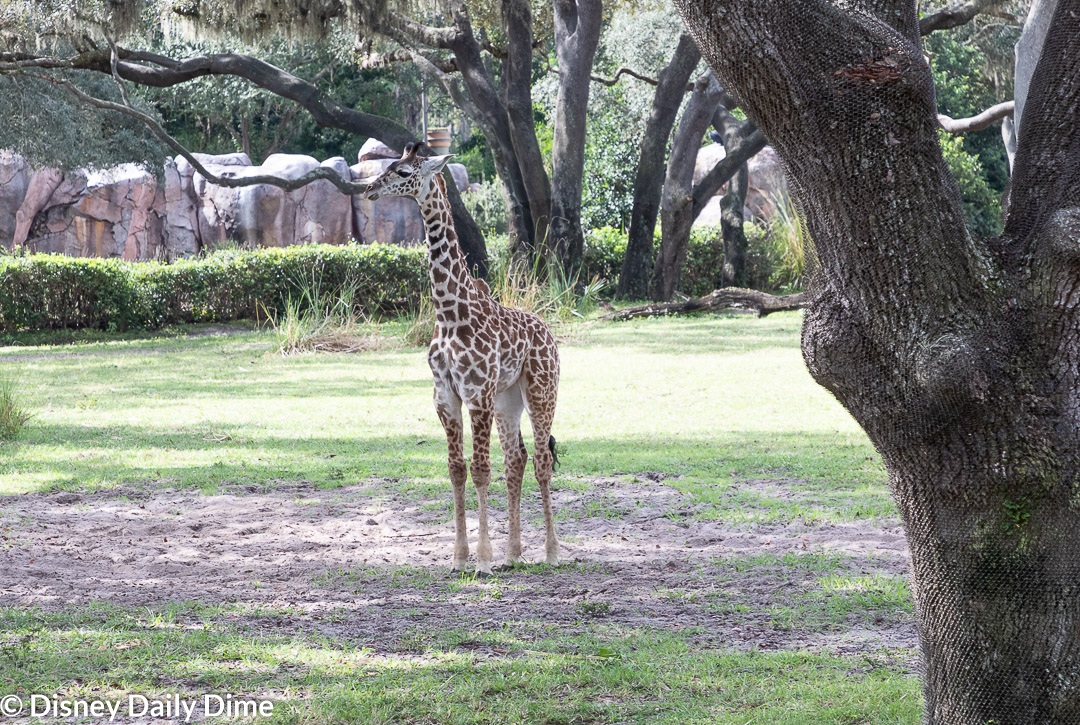 We were able to get insights from our guides on Disney's approach to their breeding program and raising animals to share with other members of the Association of Zoos & Aquariums. 
Additionally, the guides were also able to provide more color commentary on the animals' behavior, how they feed them, call them in for the night and the like.  Beyond that, it wasn't just a one-way conversation where the guides told us a rehearsed speech.  We were able to engage in more meaningful discussion about the animals that you just don't get on the normal Kilimanjaro Safari tour.  You can ask questions and engage with the guides.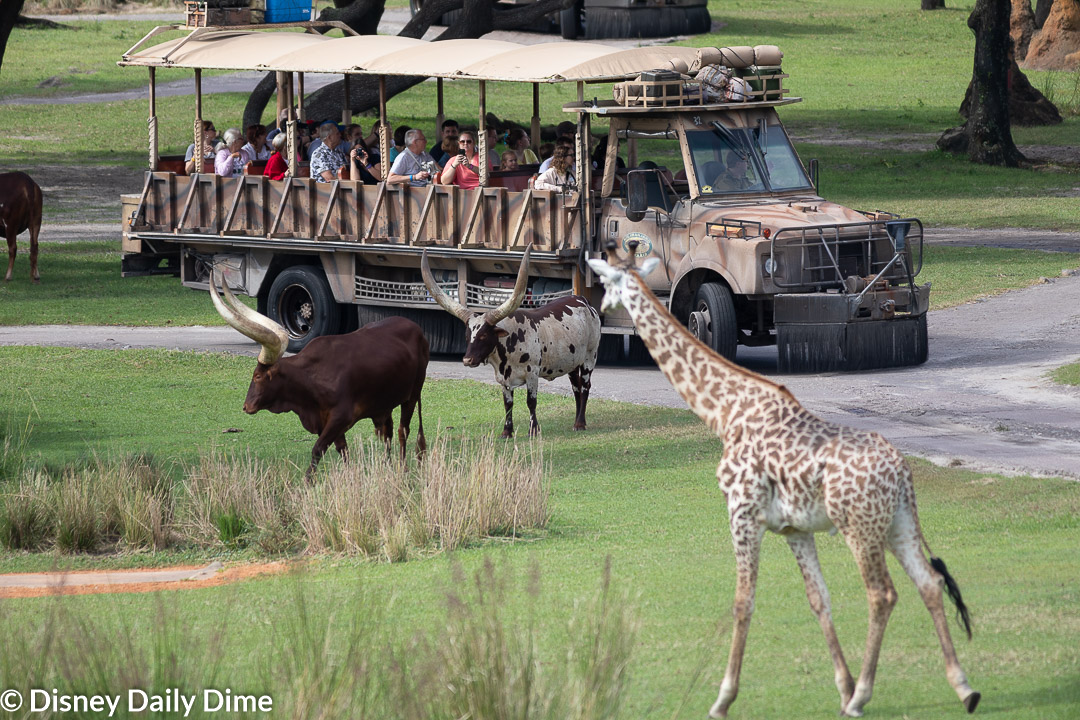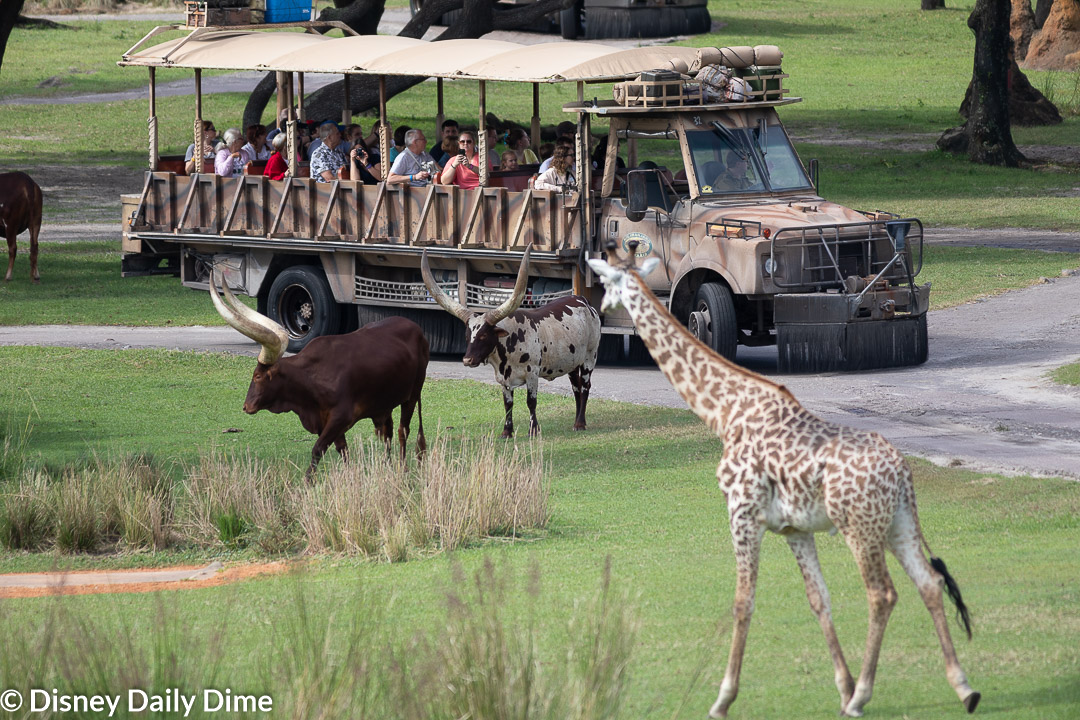 Lunch at the Boma
After we made our way through the savannah area of Kilimanjaro Safaris we stopped at the "boma" near the back of the savannah.  This is where you have your light meal on the Wild Africa Trek.  Maybe more importantly, it's also your only option for a bathroom break.  We were about 2 hours into the Wild Africa Trek before we got here, in case you are wondering how long you have to hold it before getting a pit stop.
While your guides get your food together and everyone uses the bathrooms, you'll have time to wander the edges of the boma and look at all of the animals nearby.  It's basically about 180 degrees of animal viewing.
Now, we are not exactly food critics, so not sure I would call this part our Disney Wild Africa Trek review of the food, but we'll at least give you our thoughts on the food.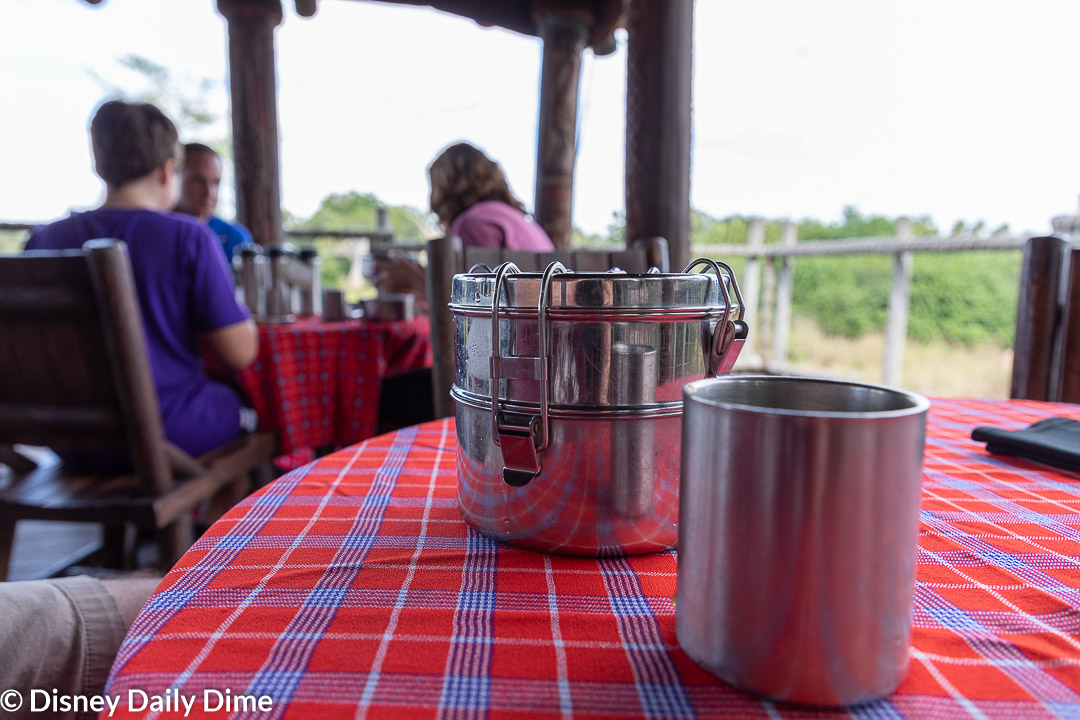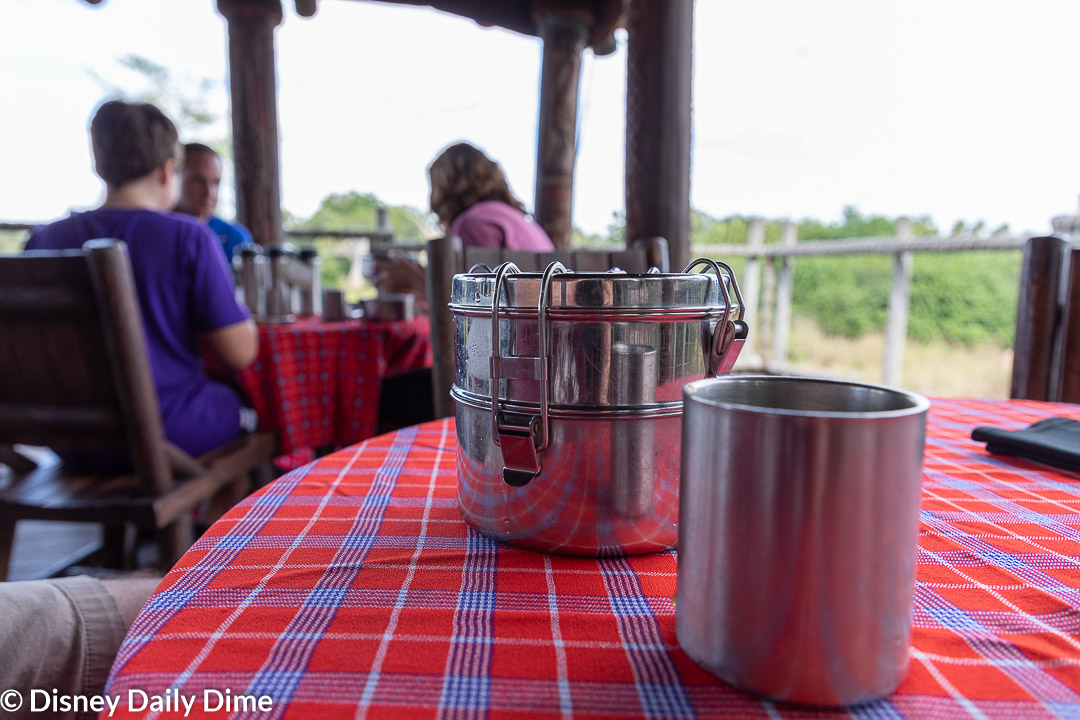 The meal is a lovely African inspired setup, catered in from Tusker House.  It is served in these tiffin carriers that you see above.
As you open the tiffin carrier up, make sure you take both layers of the tiffin out.  I didn't realize there were two until one of our guides showed me.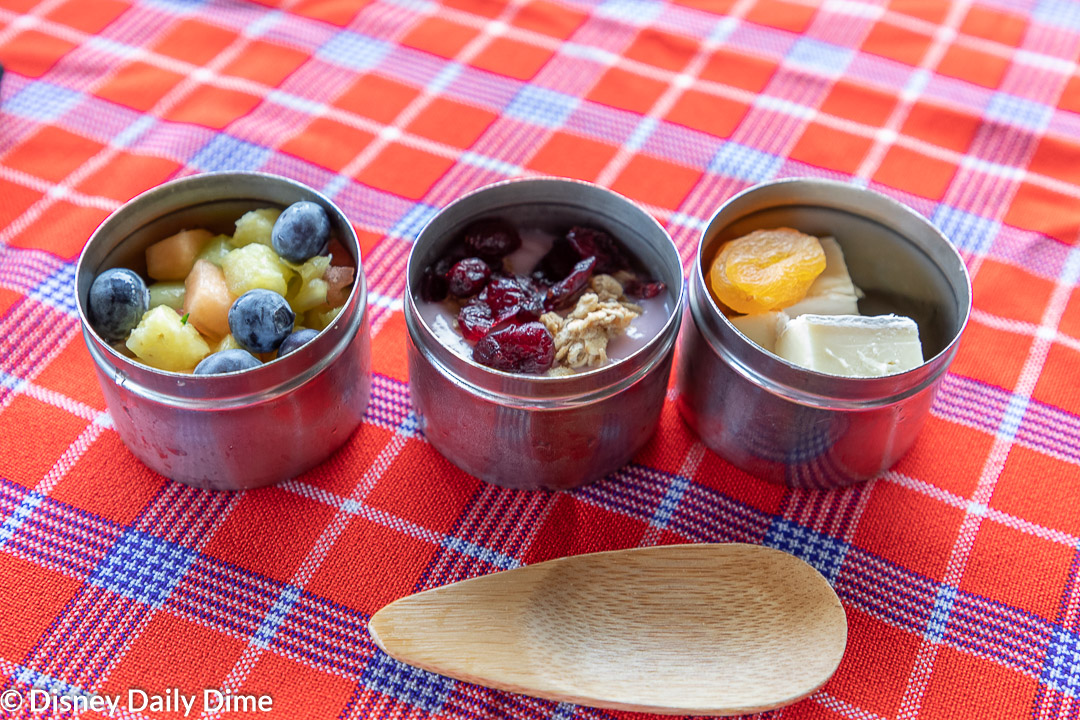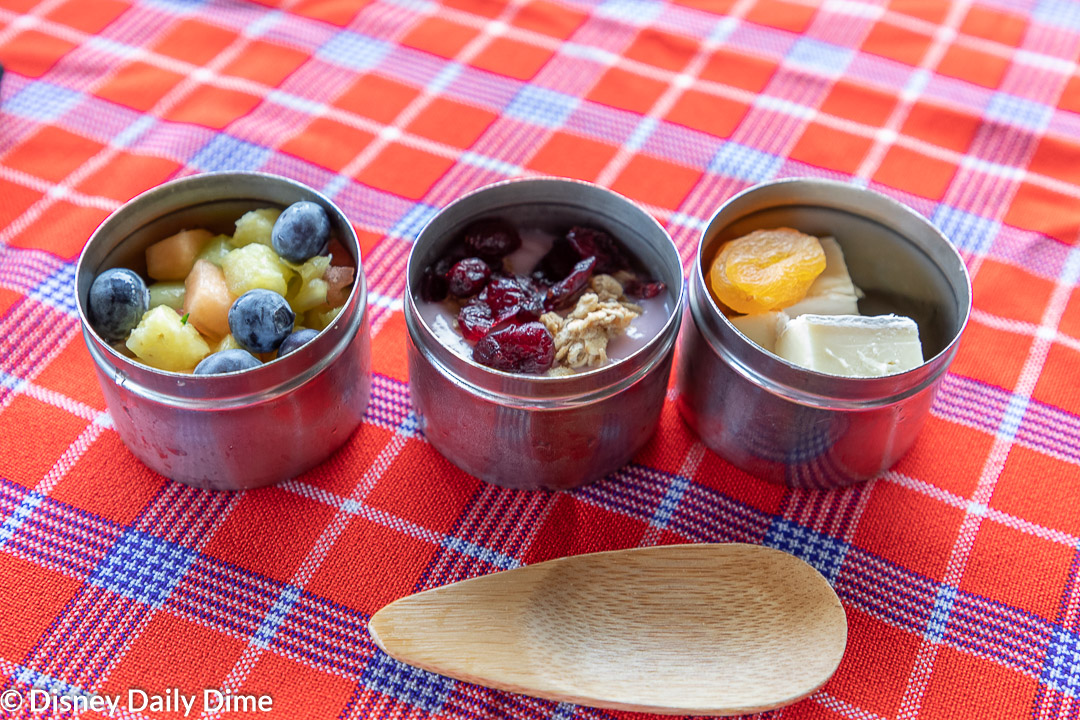 The top layer features (left to right, above), an assortment of fruit, berry yogurt with dried cranberries, and brie cheese with dried apricots.
The bottom layer contained a tortilla type roll-up, prosciutto, and a fig and almond cake.  Tucked in the bottom layer were also 3 small pita breads.   These are shown left to right, below.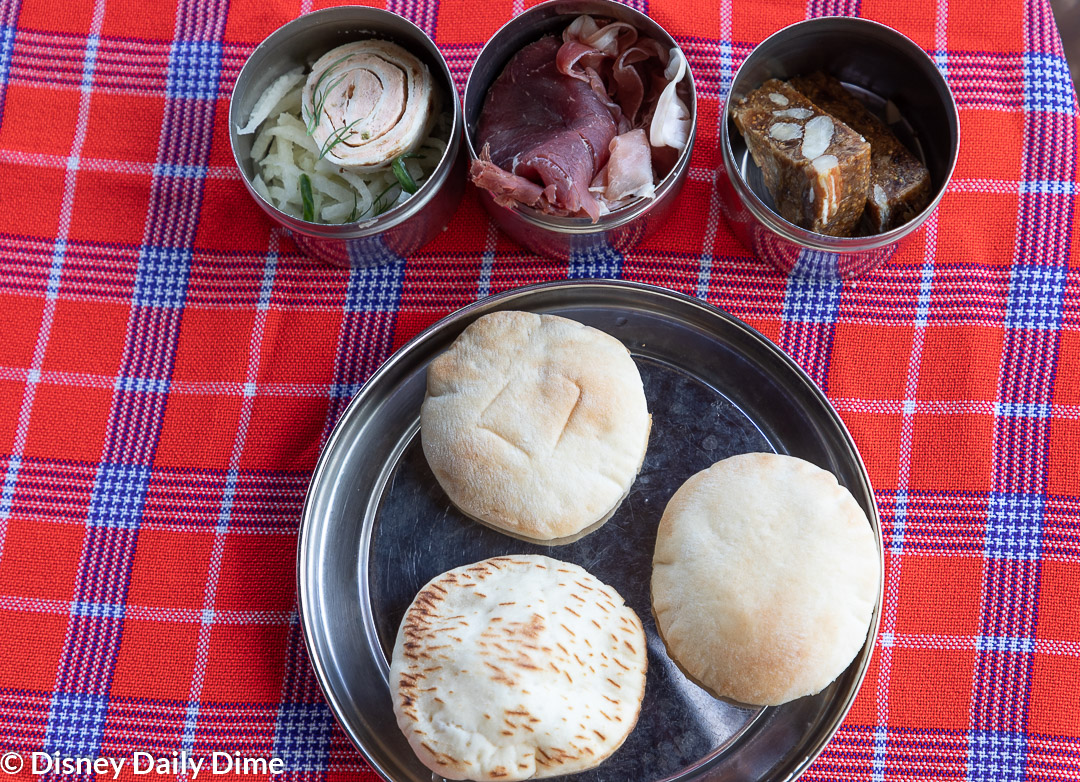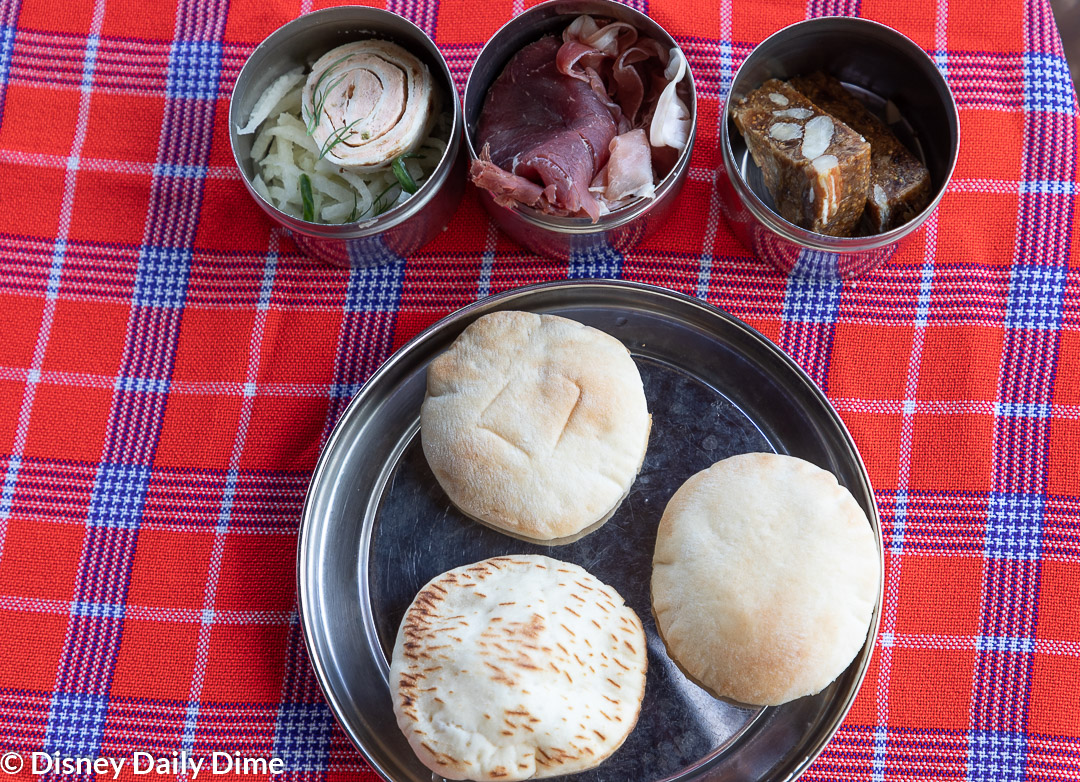 The meal was served with a passion/orange/guava drink.  They refer to it as Jungle Juice in much of Animal Kingdom.  If you don't want this juice, the water in your canteen is your only other option.
All in all, I did really enjoy the meal.  The only item I didn't eat was the fig and almond cake.  I took one bite and it was not for me.  For something called cake, I was expecting some sweet flavors, but there was no sweetness to be found.  Other than that, I enjoyed the flavor of everything.
The two best items to me where the berry yogurt with dried cranberries, which was quite surprising because I'm not a huge cranberry fan.  However, the flavor wasn't overpowering and the granola in it added some nice crunch.  The other part I enjoyed a lot was the prosciutto.  The flavor was that of a really nice, light cured ham, and the slices were a bit thicker than normal prosciutto.  Maybe that's what makes it a bit more African than Italian?  Either way, it was excellent.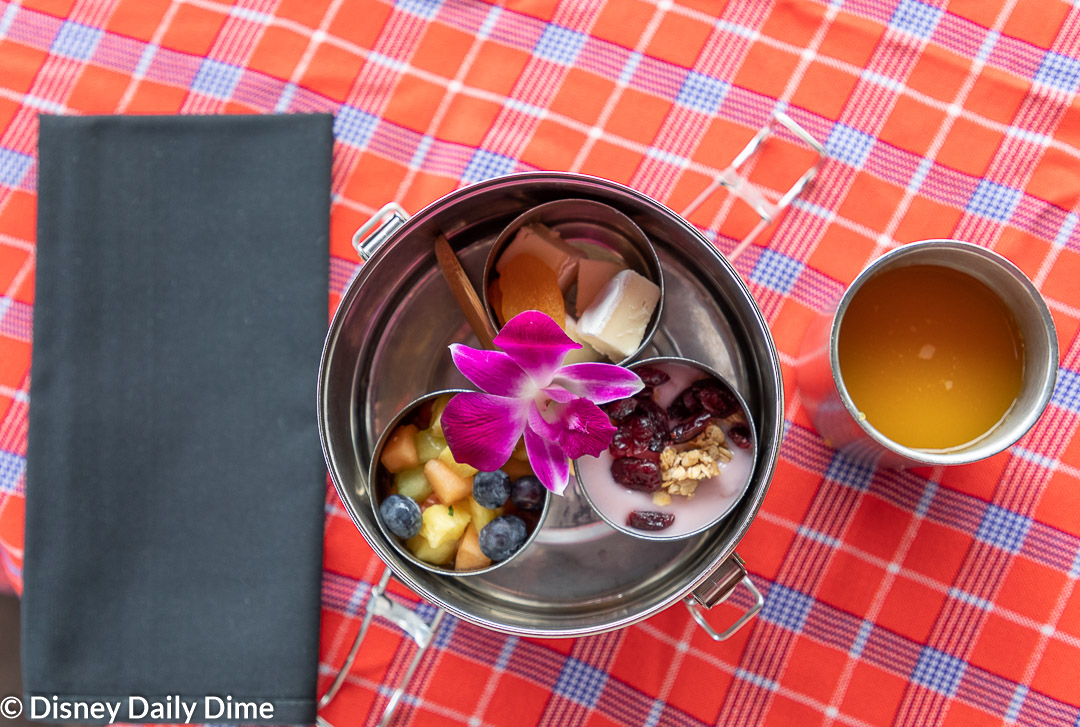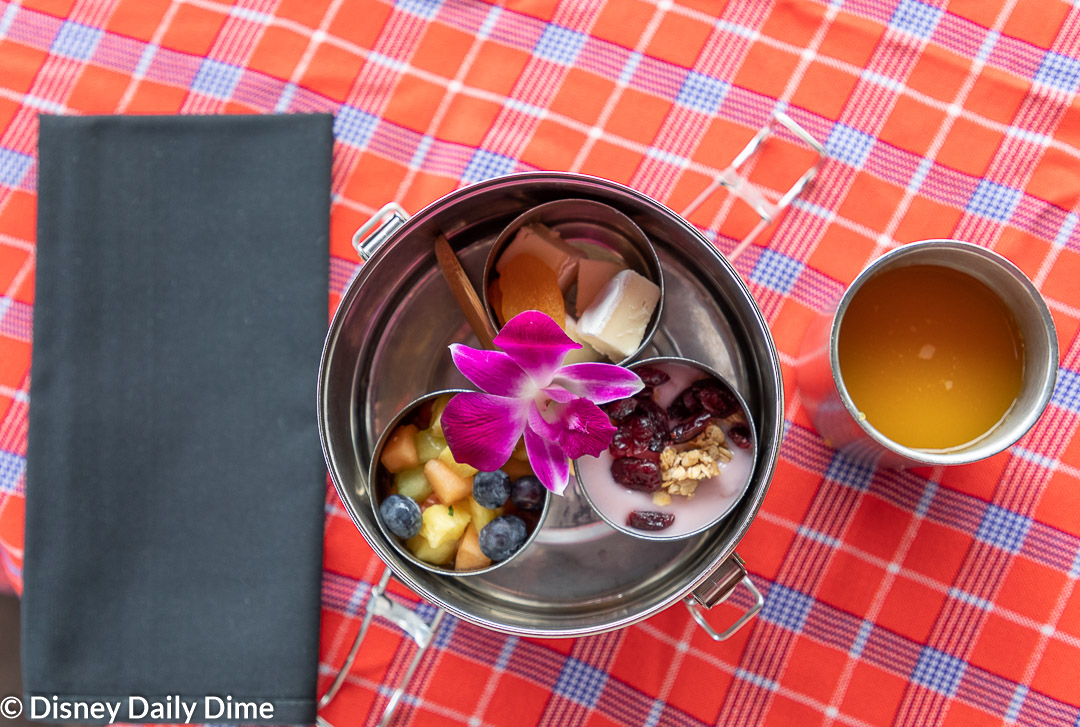 One thing to note, if you have food allergies, you can request an allergy friendly meal when you make reservations.  Make sure you confirm it with your guide as they are serving the meal.  Disney does require 48 hours advance notice to accommodate food allergies.
Before heading out, our guides did offer to take pictures of the groups on the tour with the animals of the savannah in the background.  They'll use their own camera or yours (or both).
Continuing the Wild Africa Trek Safari Ride
Once your meal is over you will have a few minutes for another bathroom break or to take some more pictures of the animals.  You'll then load back up into your vehicle and head through the end of the trek.
The ride will continue through the same path as Kilimanjaro Safaris, but again with longer stops to look for animals and discuss.
The only thing I wish we could have gotten closer to were the cheetahs.  They always seem to be in the back of their area and hard to see, so I was hoping that we could pull in a little closer.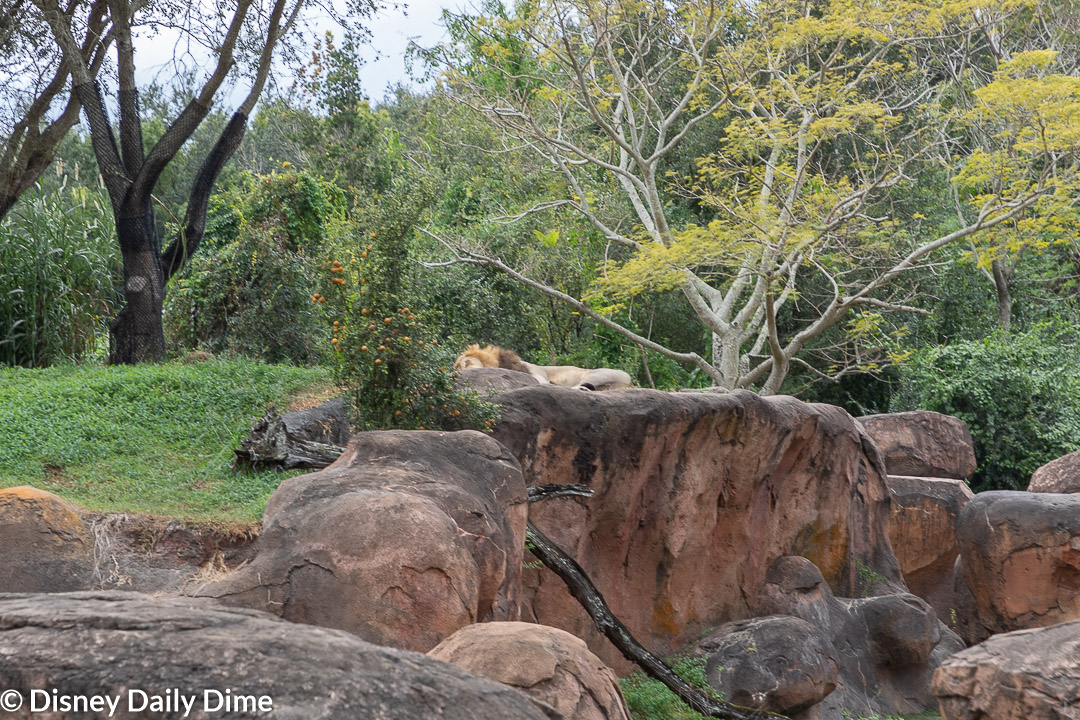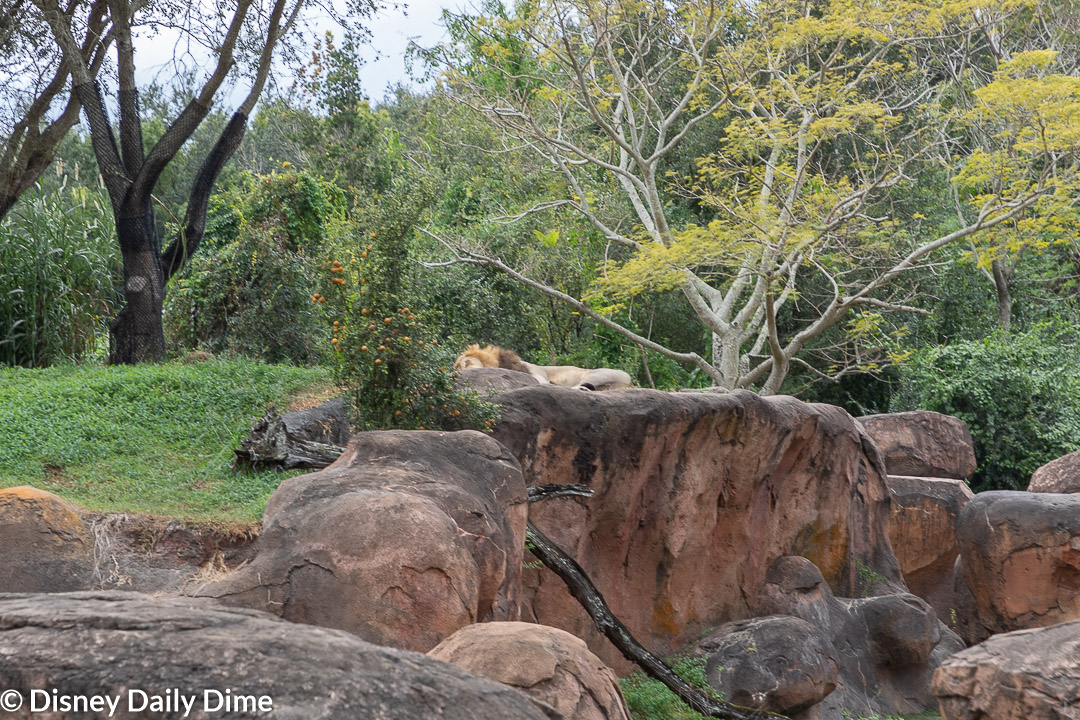 You'll get to see the lion and lioness section of the safari before you depart.  A brief word about them.  If you want to have your best chance to see activity, the general consensus our guides offered is that they are more active in the late afternoon.  Anywhere between 3:00pm and 5:00pm.  No guarantee of higher levels of activity, but if this important to you, we'd suggest going later in the day.  Oh, and Disney doesn't generally run treks this late.  At least not ones that leave around these times.  Catch a 2:00 pm trek and you'll still be around the lions by 4:30. 
Remember, we are dealing with animals, so they don't exactly keep a schedule so your mileage may vary on this one.  Sometimes you may wind up with your view of the lion looking the picture above.
Once you finish this part of your ride, the trek will end.  Your guides will drop you off at an offloading station and escort you back to the Wild Africa Trek entrance. Here you'll retrieve your items from the lockers and the trek will officially conclude.
Is The Disney Wild Africa Trek Worth It?
The answer to this is going to be vary from person to person.  For me, the answer is an unequivocal yes.  Even at a fairly steep price point for about 3 hours of entertainment, I found tremendous value in it.
Being able to engage with the guides and have more detailed conversations about the animals was so interesting and rewarding to me.  If you're not a big nature lover or interested in wild animals, then you may not get as much value out of it.
While we did not have Anna and Elsa with us on this tip, I would be concerned with taking them at the age of 8, to be honest.  I'm not sure how they would have handled the rope bridge.  They will probably need to be 10 or older before we take them on this.
There are lots of special backstage tours you can do at Disney World, so this isn't your only option to up the experience level of your trip.  But if you like animals and always wished you could have more time on Kilimanjaro Safaris, this is probably a great option for you.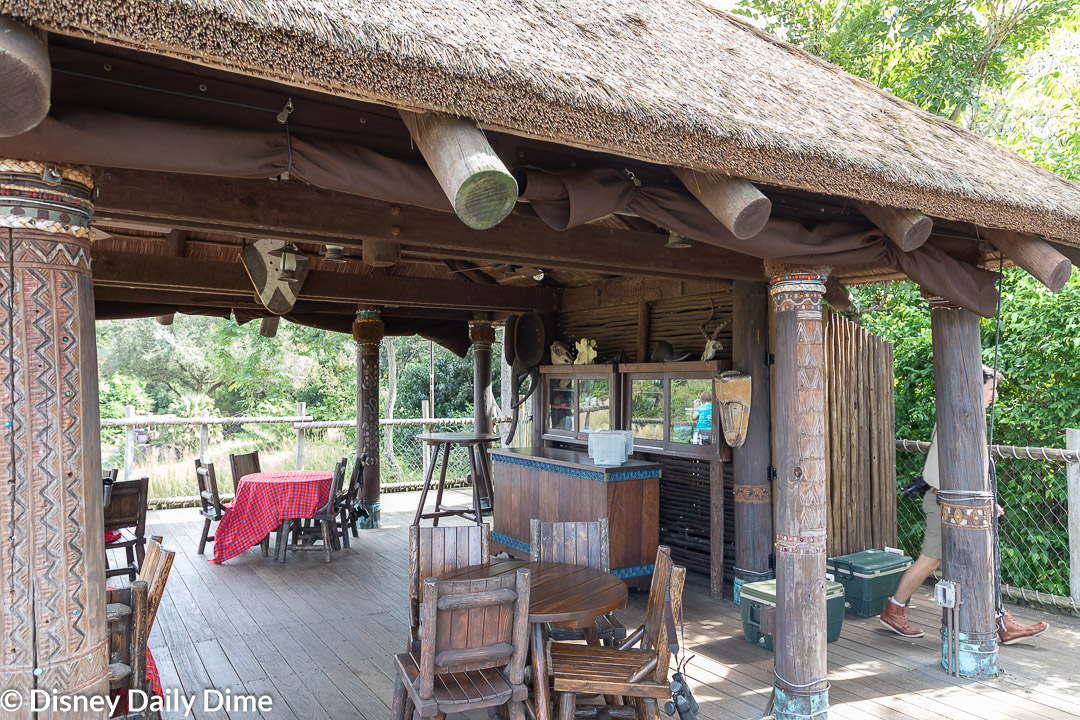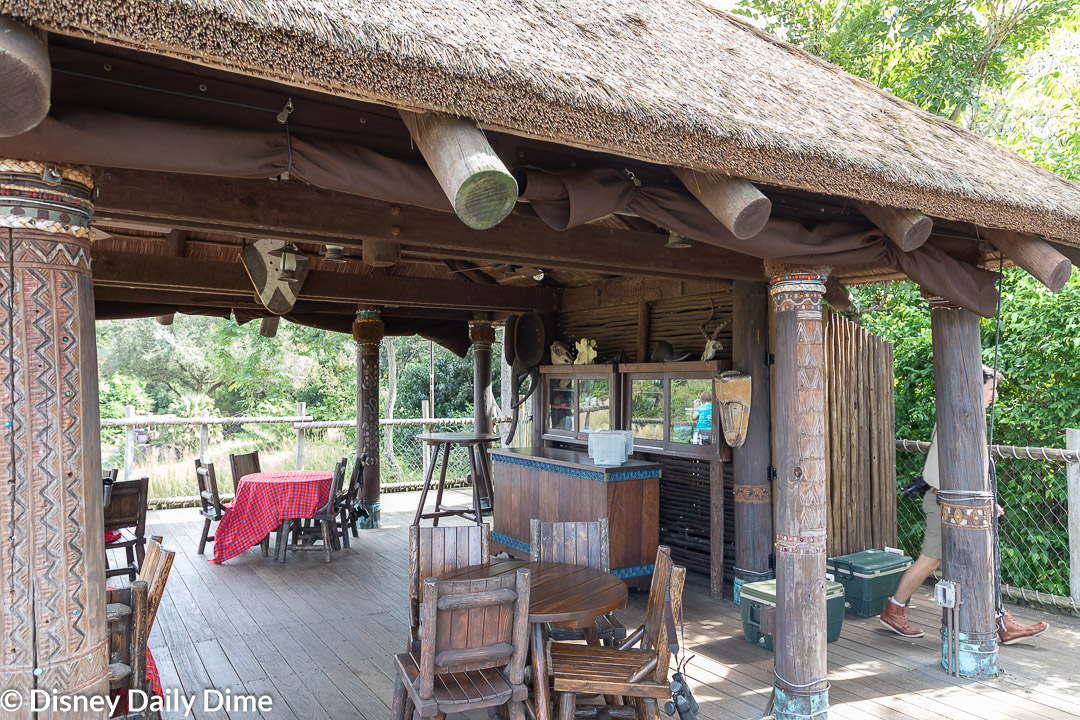 How Were the Wild Africa Trek Guides?
We acknowledge that this part of our Wild Africa Trek review is a bit subjective.  What makes a good guide, right?  Well, these guides were knowledgeable, personable and actually very fun.  I never saw them get stumped by a question or get frustrated by a random question that was a bit odd.  They were trained very well, as you would expect from most Disney World cast members.  That said, the guides are not zoo keepers.  They certainly don't profess to know every last thing about the animals, but they were easily good enough for our group.
They also weren't stiff and closed off.  I was able to have a conversation with them about what brought them to Disney World and where they went to school before coming to Disney World.  I even got some insight into the Disney college intern program.
Wrapping Up
All in all, I found the Disney Wild Africa Trek to be a great time.  It's a unique experience to give yourself or your group something different to do at Disney World.  If you love animals or are just interested in knowing more, this is a great option for you to consider.
We hope you enjoyed our Disney Wild Africa Trek review!  If you did, please do us a favor and share it with your friends, Romans, countrymen (okay maybe that's a bit much).  But maybe just a share on social media?  We also appreciate it when people do that.  It helps spread the word on our little blog and we can't tell you how appreciative we are that you would take the time to share it.  It's nice and easy, just use the social sharing buttons on this page.