In early 2018, Disney announced that they were closing their last few remaining Children's Activity Centers.  With the closure of the activity centers, many wondered what they could use as a place to give kids a night away.  Or is that giving parents a night away?  Maybe both.  Either way, Disney announced that they would open the Pixar Play Zone in the spring of 2018.
We were at Disney World shortly after the Pixar Play Zone opened and decided to take the girls there to see how they liked it.  Of course, that means you get to hear our experiences and how the girls feel about it in our own Pixar Play Zone review.
Pixar Play Zone Basics
We'll start our Pixar Play Zone review with some of the basic information you need to know about the experience.
Where Is The Pixar Play Zone?
You'll find the Pixar Play Zone located on the 4th floor of the Contemporary Resort.  If the space is familiar to some of you, that's because it used to be the arcade within the resort.
You do not have to be staying at the Contemporary to be able to use the Pixar Play Zone.  It's open to anyone.  You don't even have to be staying at a Disney World resort.
What Does It Cost?
An evening here will set you back $65 (plus tax) per child.  Note that this cost does include dinner that evening for your child.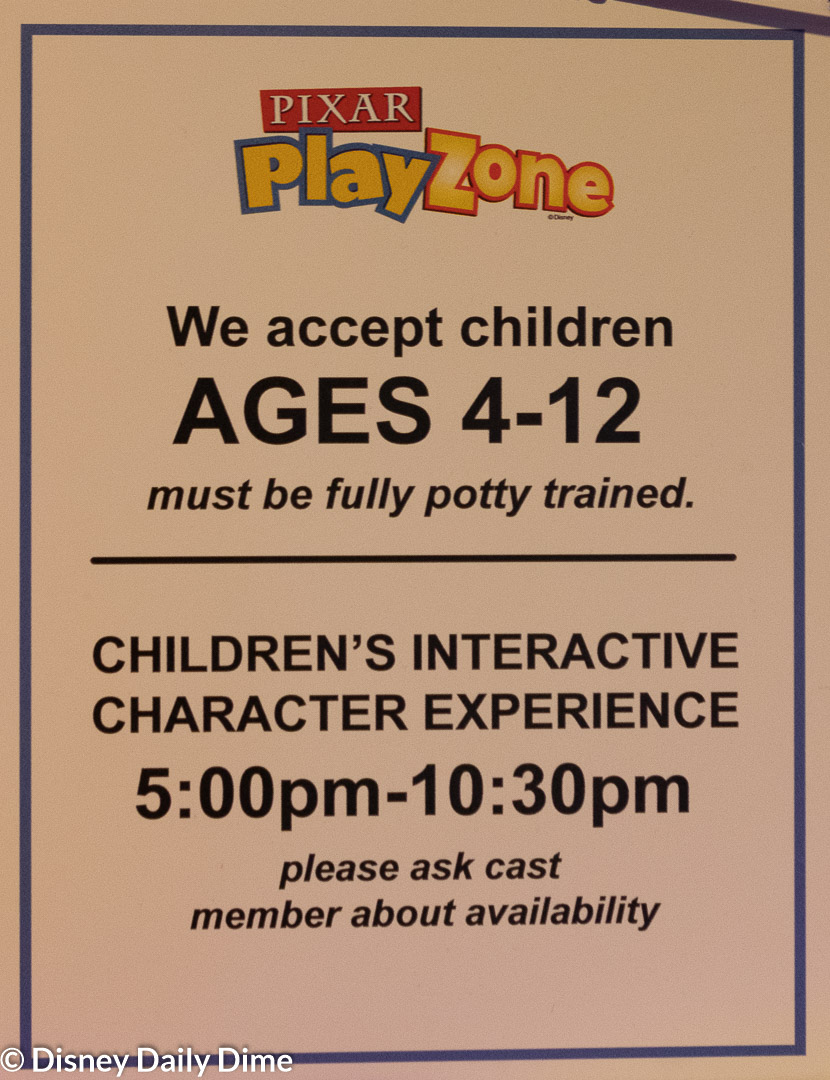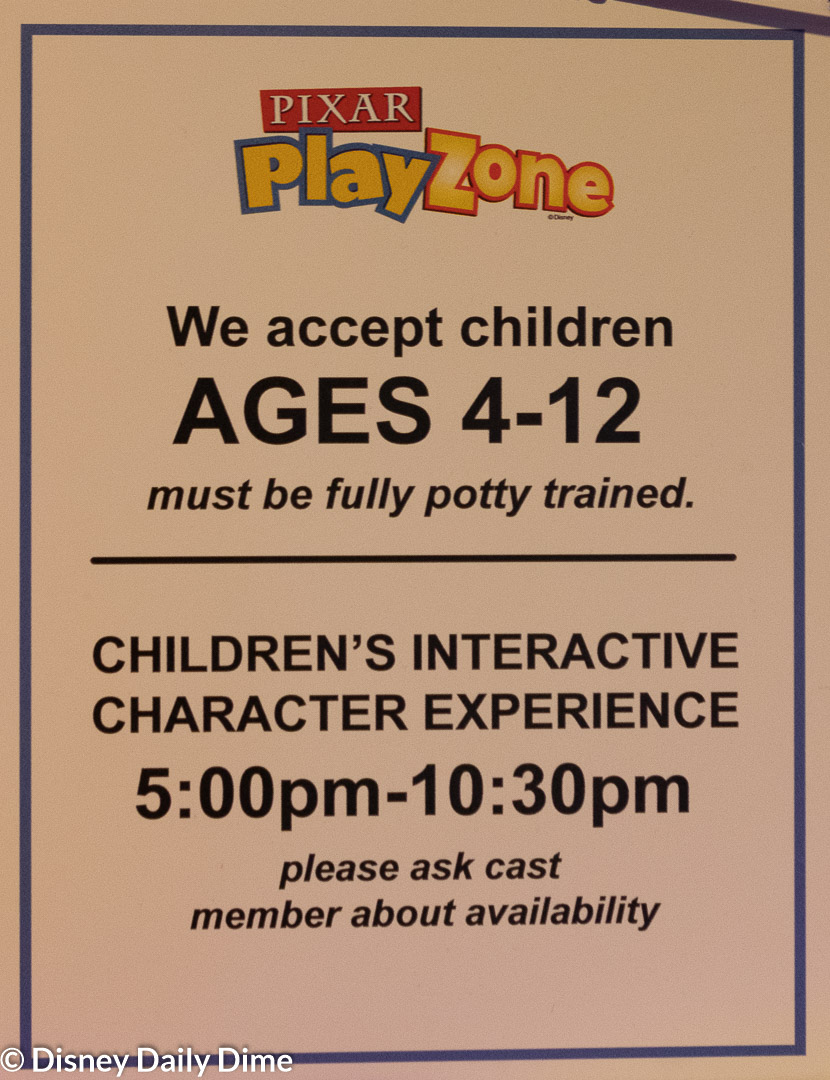 Who Can Go To The Pixar Play Zone?
The Play Zone is open to kids 4 to 12 years of age.  Note that they do require your child to be potty trained.
How Long Does It Last?
The hours are from 5:00 PM to 10:30 PM.  The actual "experience" part doesn't start until 6:00 PM, but you can drop your kids off as early as 5:00 PM.
Making Reservations
Reservations are not required, but highly recommended.  They only allow a limited number of kids in and once the spaces are full, they won't take any more.  You can try a walk up if you are looking for a last-minute drop in.  The Pixar Play Zone does open at 5:00 for people making reservations, if you want to walk in an see about availability.
You can make reservations by calling Disney at (407) 824-5437.  Your reservation requires you to guarantee with a credit card.  You must cancel 24 hours in advance to avoid being charged.
Pixar Play Zone Review Of The Night
Okay, now that we have the formalities done, let's get on with the meat of our Pixar Play Zone review.  We'll dive into what the night entailed and how our girls felt about the experience.  As a point of reference, at the time of this trip they were 8 and 5 years old.
One quick comment, the Disney cast members said no pictures were allowed inside, so many of the images here are stock pictures from Disney.  You won't find our Anna and Elsa in any of them.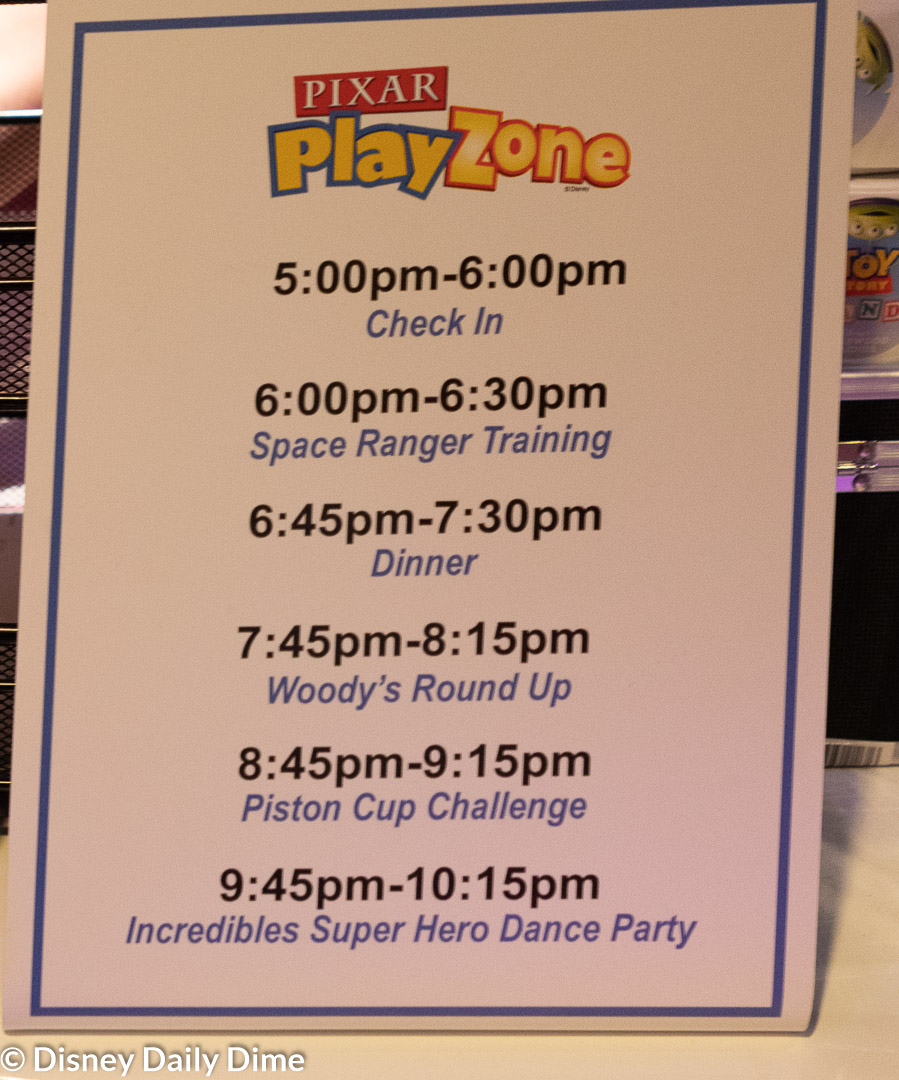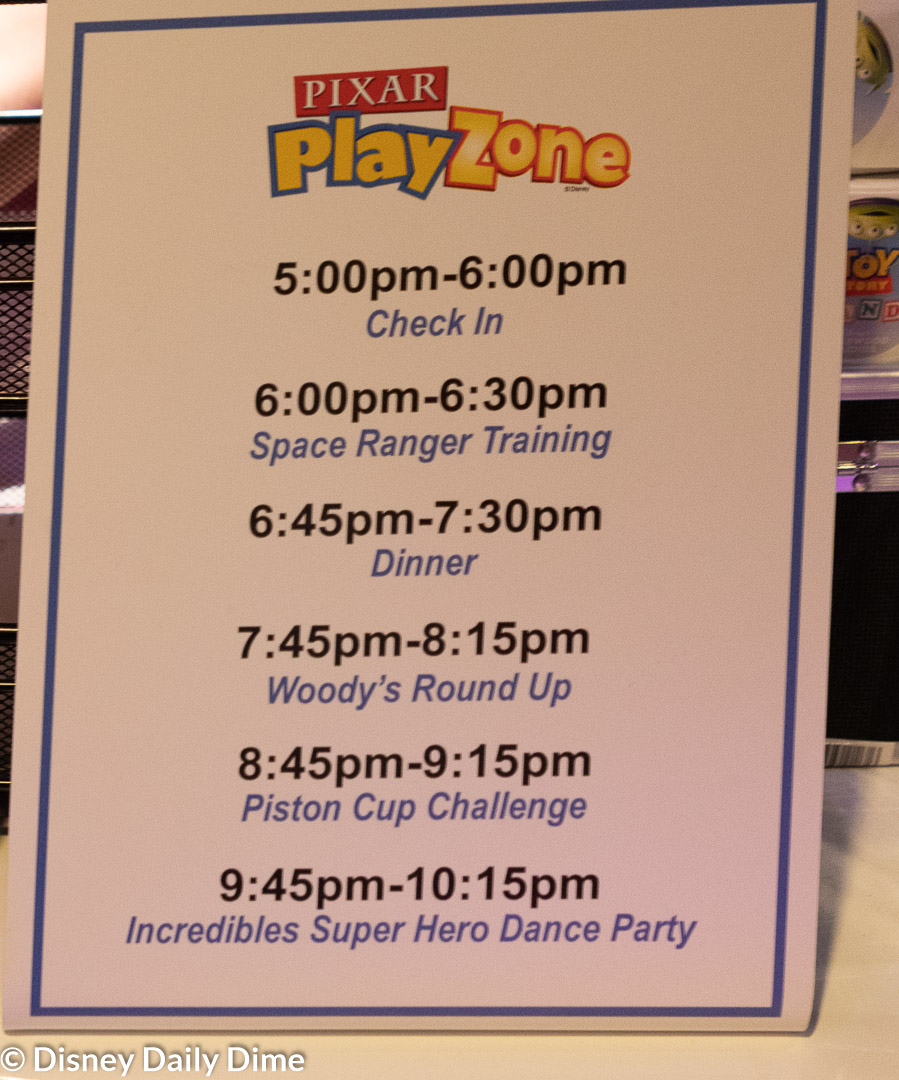 Checking-In
When you get to the Pixar Play Zone, you'll spend the first few minutes checking in.  The check in process will involve giving all sorts of vital information on your kids and signing a waiver that I'm sure has some very pro-Disney clauses in it, should your kid get hurt.  One thing they are keenly interested in is allergies.  Also, make sure the waiver clearly lists out who can pick up your kid.  The Disney cast member will use it to check the ID and validate whoever tries to claim your child.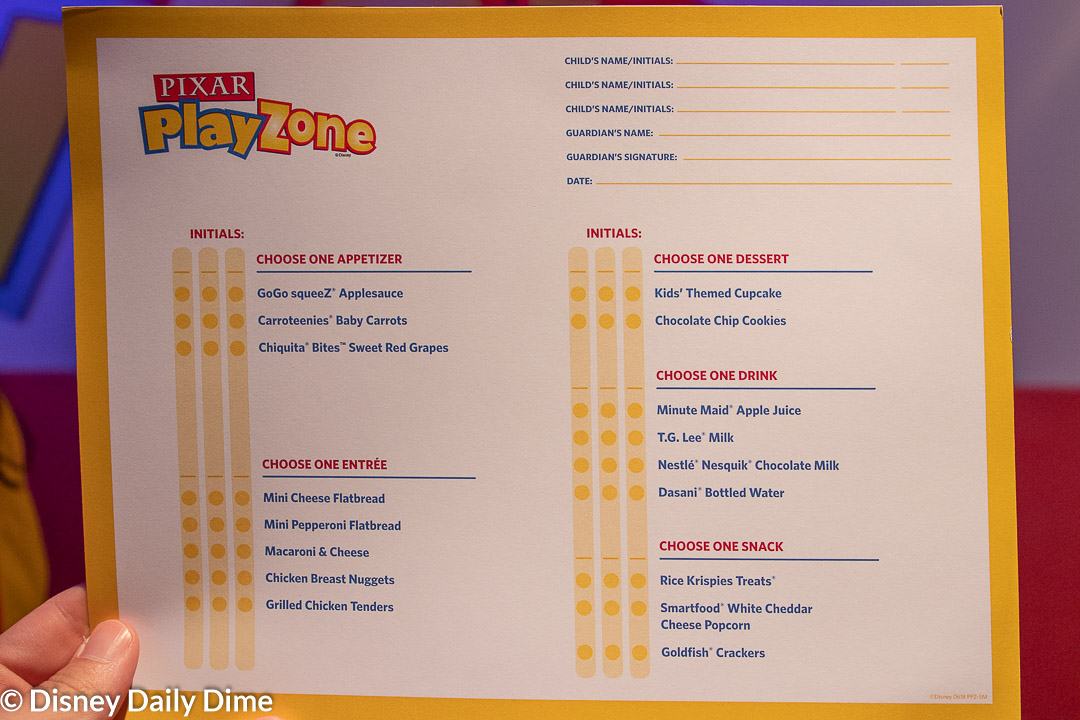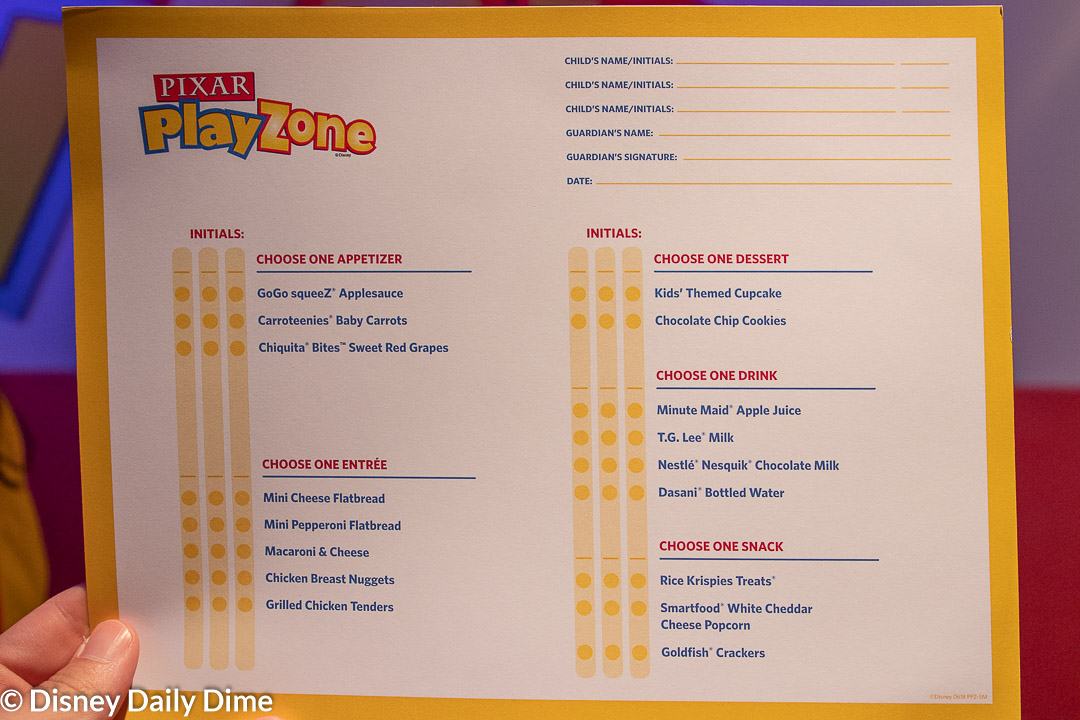 Next, you'll be given a menu to select what your kid will have for dinner.  You can see what the options were as of this writing in the above picture.  We didn't actually see the food, but would guess it pretty garden-variety kid food.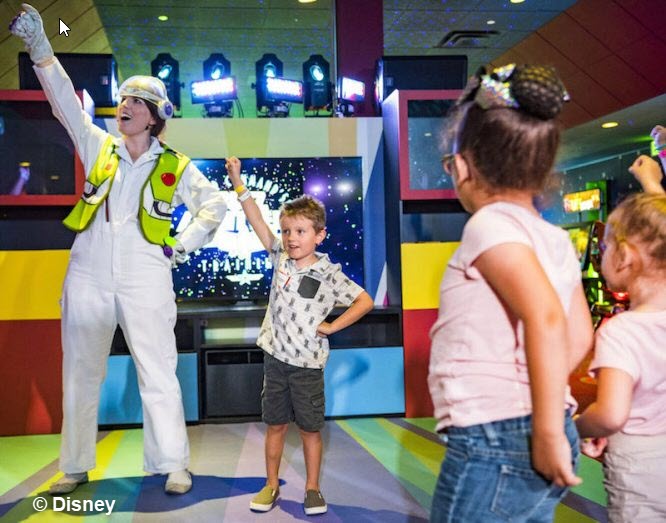 Space Ranger Training – 6:00 PM – 6:30 PM
The evening starts with Space Ranger training.  During this part of the night, your little one will join a certified space ranger.  They will make sure your kids know the rules of the road to being a space ranger.  You never know when Emperor Zurg may try to attack!
As part of their training the kids watched a video featuring Jessie, Buzz, Woody, and Bullseye.  The video taught the kids several things, chief of which was how to call for help should they be attacked by a space monster!  The secret call was Jessie's yodel.  So far, our kids have not roamed our house randomly yodeling!
They were also apparently taught some fighting moves, should they be attacked.  Anna and Elsa are more than willing to put these moves to work on each other back at home.
For the adult in us, it sounds like a good low-key way to get kids to understand what is acceptable behavior for the evening, while letting the slow trickle of kids come into the Pixar Play Zone.
Dinner – 6:45 PM – 7:30 PM
Next up the kids will have their dinner.  As you can see on the menu, it's some pretty basic counter service style food.  For Disney World at least.
As Elsa told me, "It was just regular food, but the mac and cheese were shaped like Mickey".  Overall, she said the food was fine.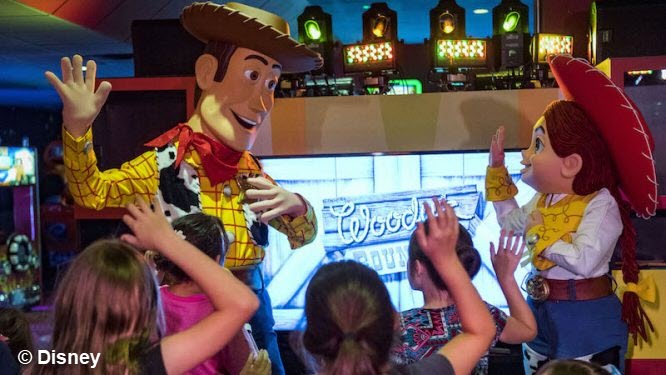 Woody's Roundup – 7:45 PM – 8:15 PM
After Dinner, the kids are greeted by Toy Story favorites, Woody and Jessie.  Unfortunately, no Bullseye.
We wouldn't think of this as just a meet and greet with them.  Rather it is a fairly interactive session, where kids get to do several activities with Woody and Jessie.  It's accompanied by some TV time where they watch cowboy cartoons.   Elsa said that they got to race cars with Woody and Jessie too.  They also played music and had dance party with both characters.  There were also some other games that they played during the roundup, but the description from Anna and Elsa was pretty vague.
Based upon the reviews we have read elsewhere, it sounds like the experience with Woody and Jessie can vary from night to night.  Or kids could just have poor memories of what happened.  Maybe a little of both.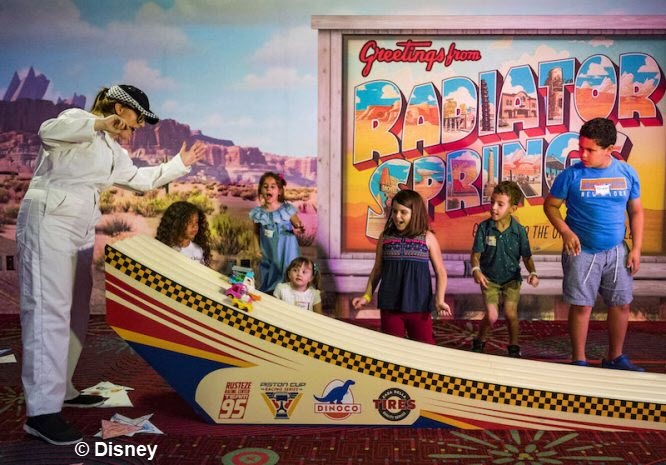 Piston Cup Challenge – 8:45 PM – 9:15 PM
After Woody and Jessie depart, the kids get some car racing action!  The Pixar Play Zone invokes the tones of the movie Cars, having the kids participate in their own race.  Kids get to create their own cars from Legos and then race their creation against other kids.  First one down the slope wins!
In the case of Elsa, she teamed up with some friends to race as a group.  Sounds like they all enjoyed competing against other kids.
Incredibles Super Hero Dance Party – 9:45 PM – 10:15 PM
Lastly, the night ends with a Dance party.  Because what better way to send the kids back to their beds, than getting them get all fired up with a 30-minute dance off, Footloose style!
The kids are joined by Mr. and Mrs. Incredible in this party.
Unfortunately, we picked the girls up before the party started.  That means we don't have first hand accounts of what the party was like.  We have read some others and it sounds like a fun time for kids.  They can line dance and interact with the Incredibles.
Kids Choose Activities They Participate In
One thing to note about all the activities.  Kids are not required to participate in any of them.  The Pixar Kids Zone is lined with arcade games against one wall.  Another wall has all sorts of toys for kids to play with.  Kids can do what they want.  If that means go play arcade games all evening, then so be it.
Elsa referenced that she really enjoyed playing the "orange game that blows wind in your face while you ride a raft".  We'd have no idea what this meant, except we recently saw it at a local arcade during a friend's birthday party.  Still can't tell you the name of it though.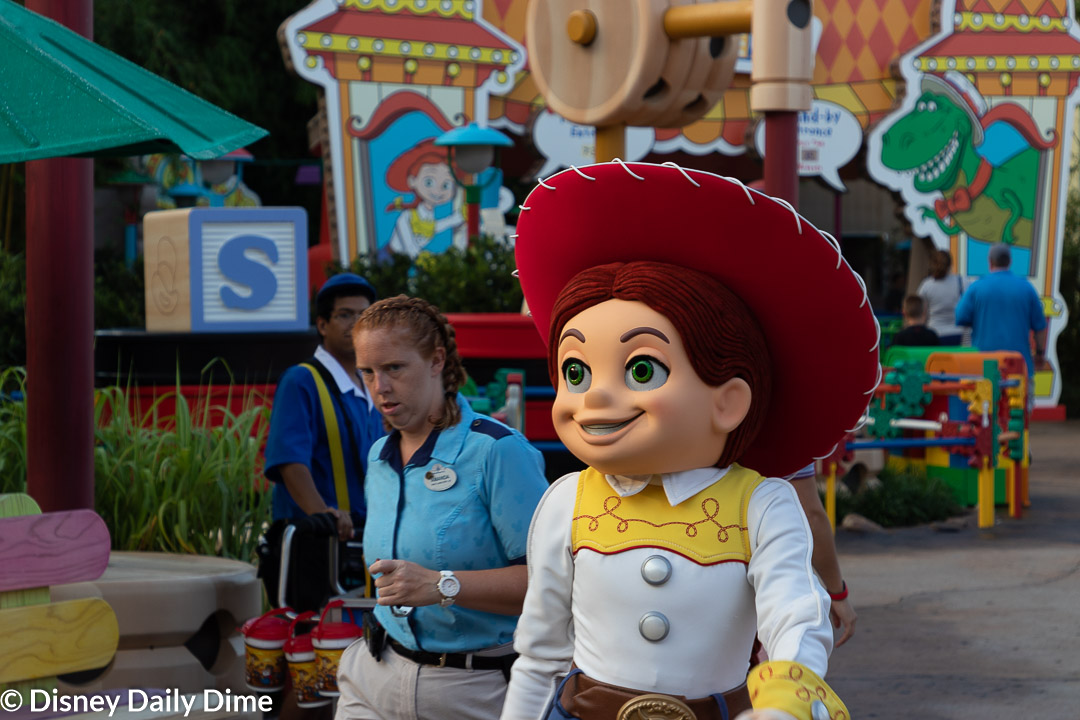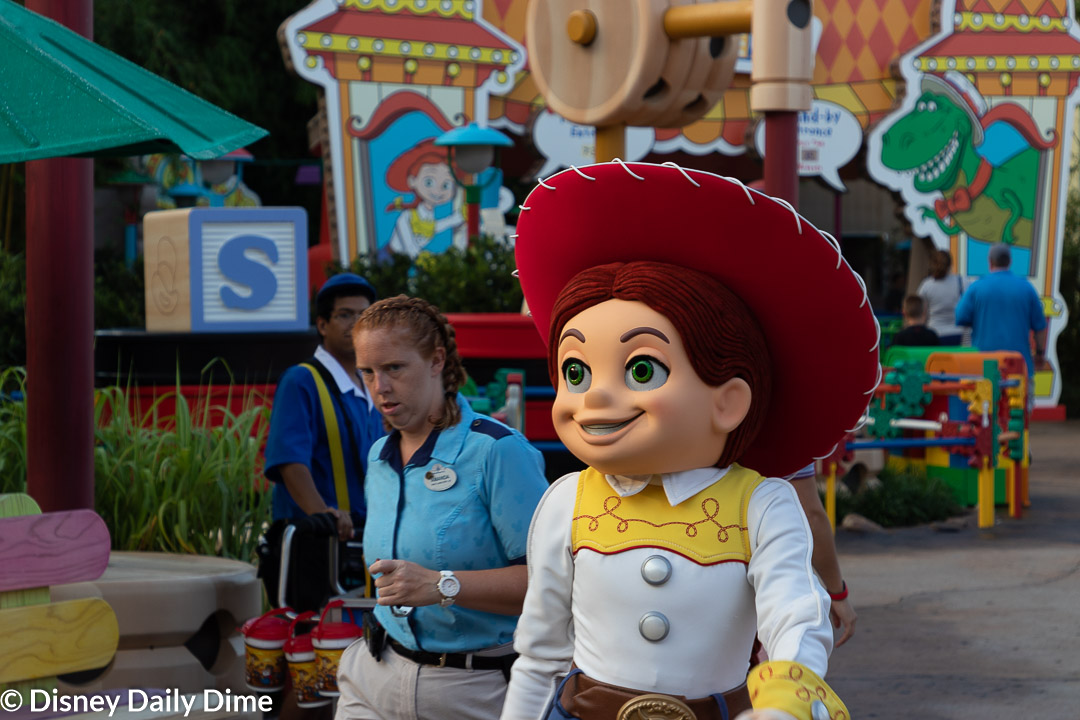 Arcade Games Available
In case you are curious as to what arcade games are available at the Pixar Play Zone, Elsa gave us a brief rundown.  The available games were:
The aforementioned orange arcade game
A motorcycle riding game
Subway Surfer
A race car game
Pop-a-shot basketball
A fish catching game
How Does The Pixar Play Zone Compare To The Children's Activity Centers?
We asked Anna and Elsa what they thought of the Pixar Play Zone compared to the old Children's Activity Centers.  For reference sake, they have only been to Lilo's Playhouse at the Polynesian before.
Elsa proclaimed that she liked the Pixar Play Zone better because the characters were more interesting to her.  She really liked getting to meet Jessie.  She said, Chip 'n' Dale were fun, but Jessie is a more important character to her.  Oddly, no reference to Woody here.  If you're wondering why Elsa made the Chip 'n' Dale comparison, they are the characters who visited kids at Lilo's Playhouse.
Both of the girls said they would like to go back.  That's probably the ultimate test of how they liked it.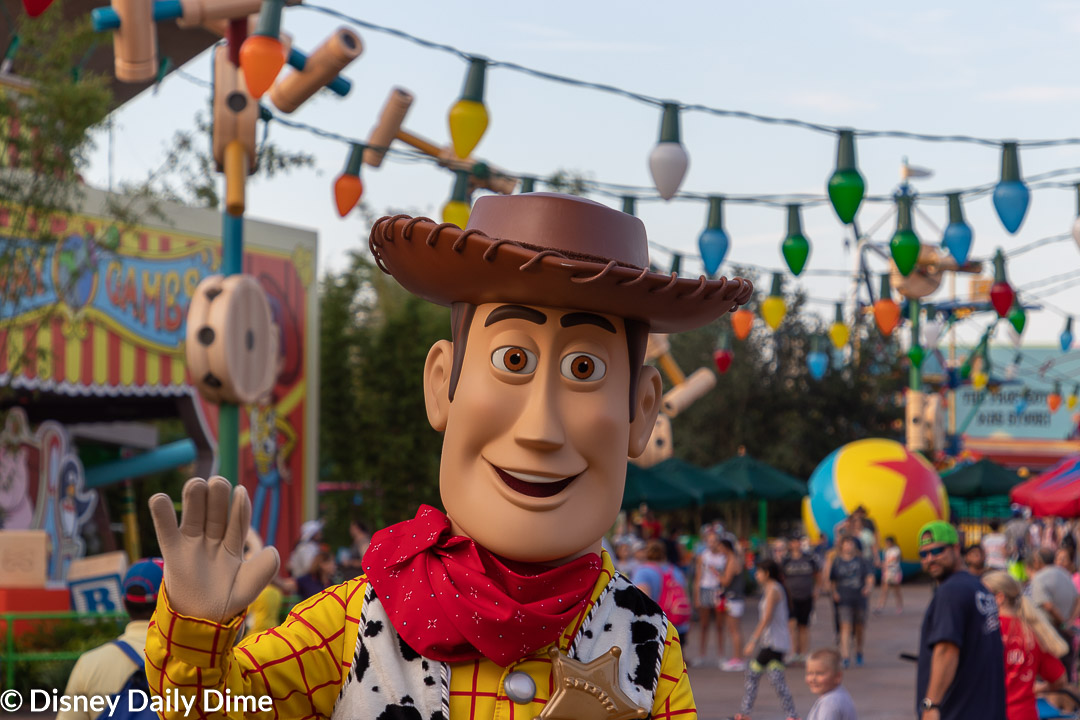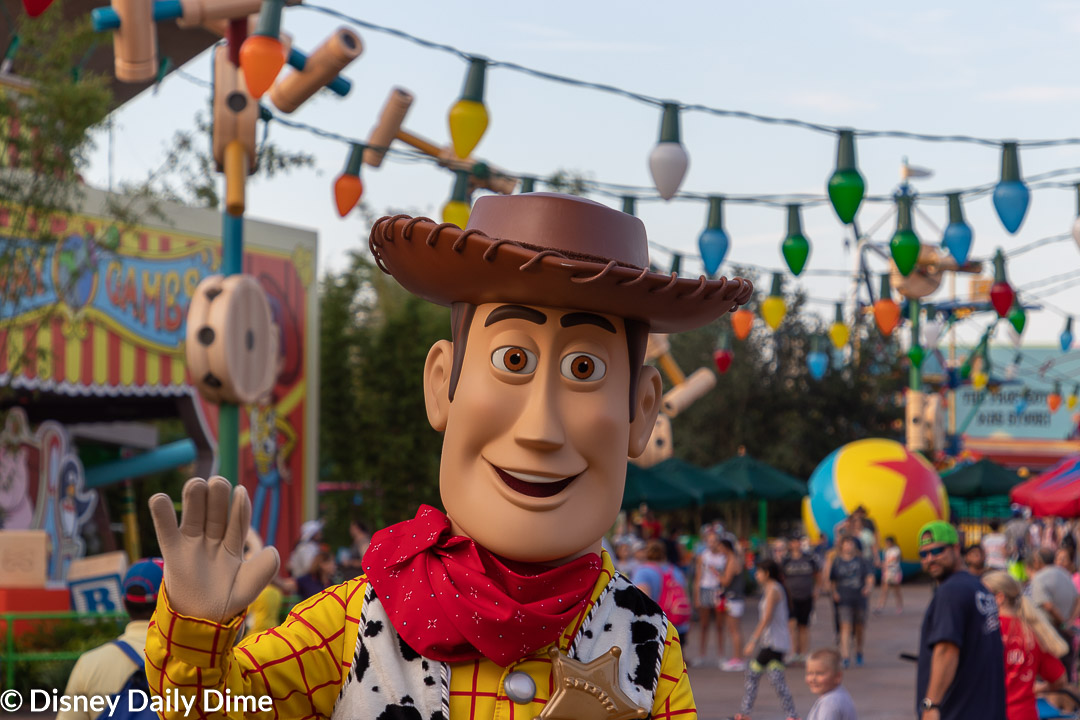 Some Things You Should Know About The Pixar Play Zone
Before we wrap up, there are some things you should probably know before you go:
There are no restrooms inside. Make sure you stop by and let the kids go to the restroom before dropping them off.  Cast members will take them to the bathroom, its not like they have to just hold it.  However, the bathroom they use is on the 2nd floor of the hotel.
Each kid is given a little cubby to store their stuff.
When the kids first go inside, they must wash their hands. There are some very convenient washing stations that can be used throughout the night.
When the night is over, your kid is given a goody bag. The girls were not overly interested in the contents of the bag.
The door to the kid zone was locked when we came to pick the kids up. This is a security precaution.
They do check ID when you pick your kids up. Make sure you bring something that matches what was on the paperwork you filled out.
Wrapping Up
Overall, the girls really enjoyed their time at the Pixar Play Zone.  There was a good mix of structured activity and free to time to do what they wanted.  The characters from Toy Story and The Incredibles are generally more relatable to them than other characters.  This is especially true after The Incredibles II came out this year.  They both said they would love to go back.  Our only concern would be at what age do you outgrow this.  12 years old feels like it might be too old, but we're not kids anymore are we?
As far as mom and dad go, we appreciated the night out just the two of us.  We'd gladly pay the $65/each next time we are there with the kids.  We got to enjoy a nice dinner at California Grill while the girls had a fun and safe night away from mom and dad.  Win-win.
If we had one complaint, it would be the lack of any pictures of the evening.  We get why you don't let adults back in there to take pictures.  However, that doesn't mean you can have a photographer there to snap a few pictures.  Oh well, maybe that will come someday.
If we missed any elements of the Pixar Play Zone night, drop down in the comments and share your experience with our readers.  They will appreciate more details.
We hope you found our Pixar Play Zone review helpful.  If there are other people that you think could benefit from it, please share it on social media with them.  Just use the social sharing icons on this page.  We always appreciate it!