One of the more adventurous global marketplaces at the 2019 Epcot Food & Wine Festival is Japan.  This is probably especially true if you are eating here with kids, like us.  I think this review will show that you never know what your kids are going to like!  Before we get to the review, if you're looking for complete coverage of the festival then take a moment to read over our Ultimate Guide to the Epcot Food & Wine Festival.
This was our first time to ever try food from the Japan booth at a Food & Wine Festival.  We were excited to do this as we enjoy Japanese dining experiences at Disney World and home.  This felt right up our alley.  The booth features only savory options, with nothing sweet available, so keep that in mind if you want something sweet to chase your food.  You can find the complete menu for the Japan booth below.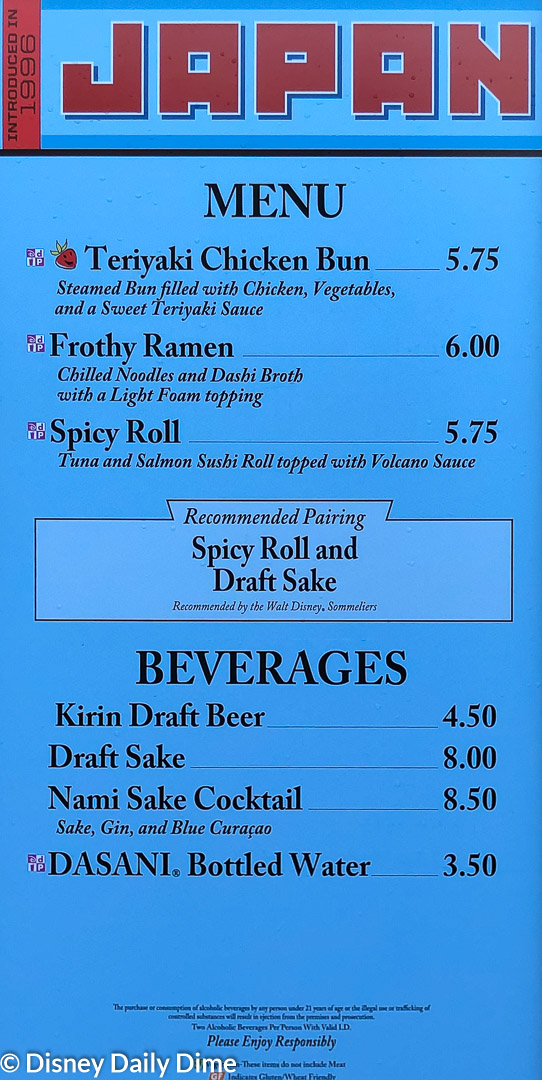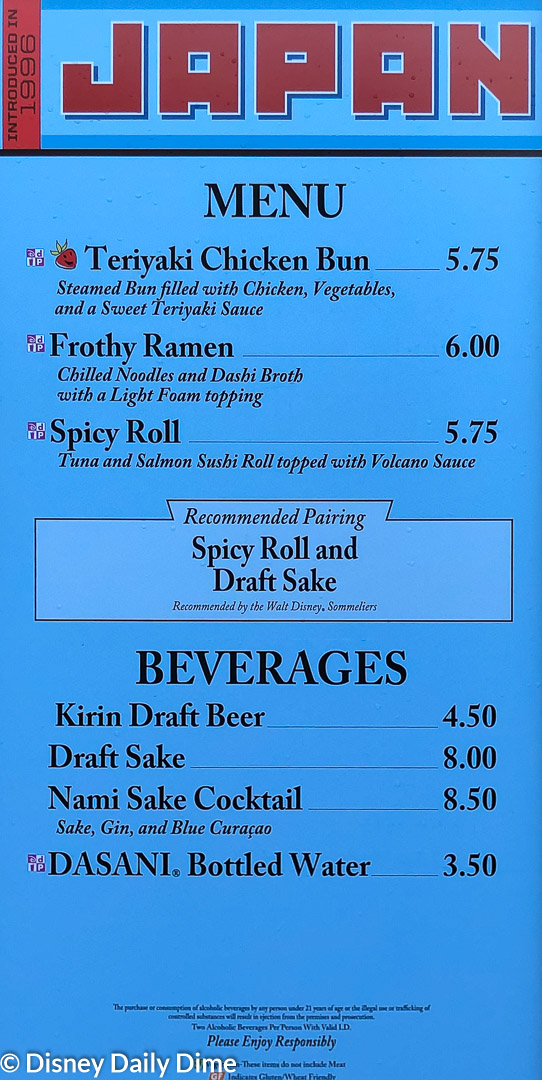 The Japan booth is situated across from the pavilion right along World Showcase Lagoon.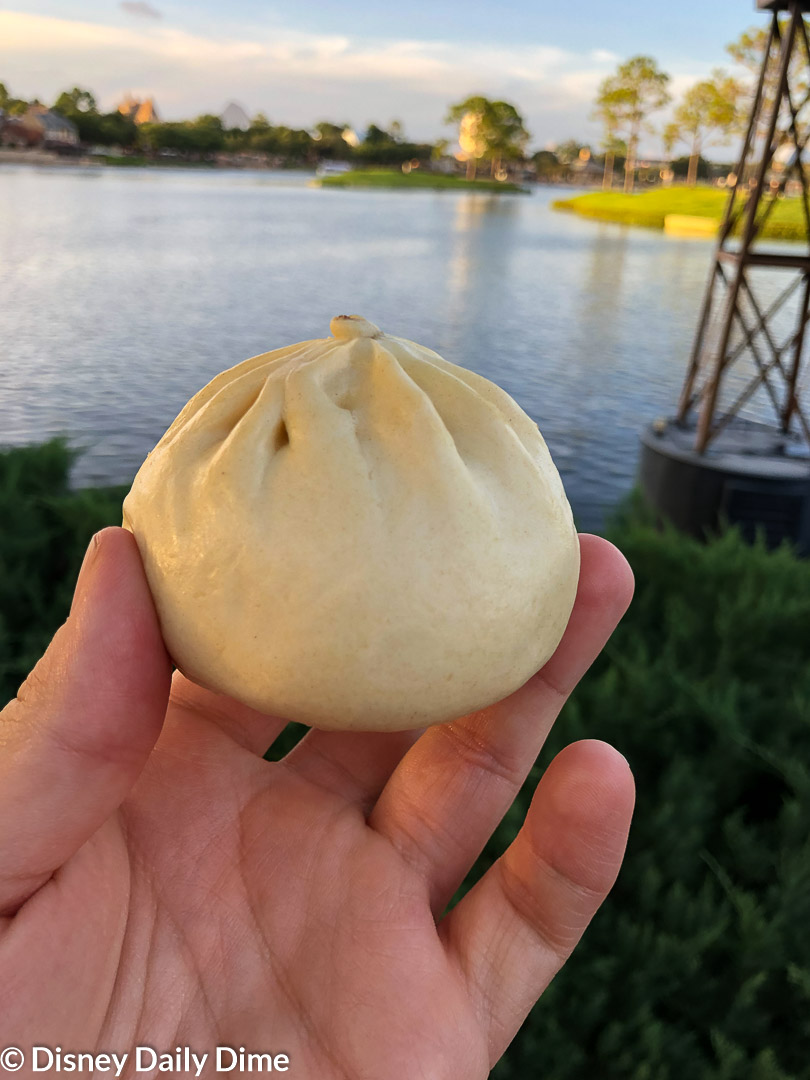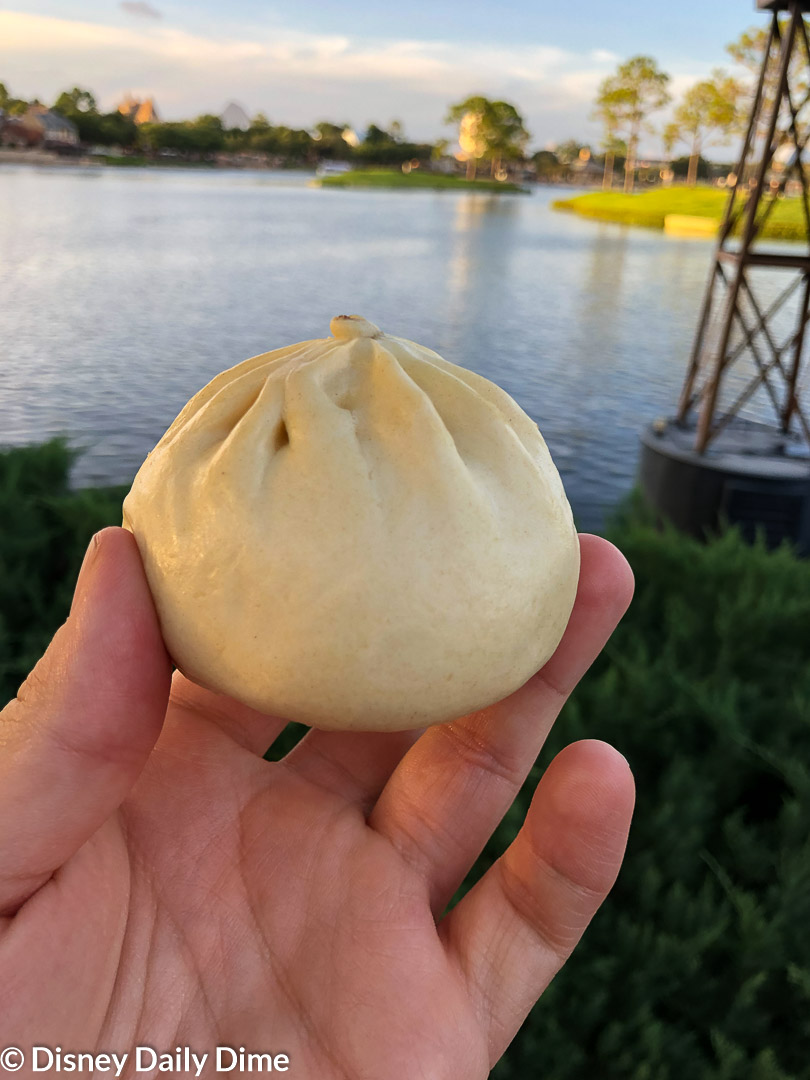 Teriyaki Chicken Bun: Steamed bun filled with Chicken, Vegetables and a Sweet Teriyaki Sauce (Kid Approved) – $5.75
The teriyaki chicken bun we had as part of our meal at the Japan booth was an excellent way to start.  It's a doughy steam bun, filled with yummy chicken and vegetables.  They are lathered in a sweet teriyaki sauce.  I honestly didn't find a lot of sweet in the flavor of the teriyaki, but it wasn't salty either.  It just had an excellent teriyaki flavor.  The combination of the great bun and filling make this excellent.  I could have eaten a few of these.  I do wish there was more filling and less bun, but the proportion wasn't terrible.  You could see it for yourself if I took a picture of it split open.  Oops.  We'll get a better picture next year!
While I enjoyed the chicken bun, I was curious about how the girls would feel, since it is noted as a kid approved item.  It appears Disney got this one right, as both Anna and Elsa loved the chicken bun.  They loved it to the point they were asking for a second one to keep eating.  And it wasn't like they weren't stuffed already.  The best part is they didn't notice or complain about the vegetables.
So, this one looks like a hit for everyone.  We think you'll do well to order it.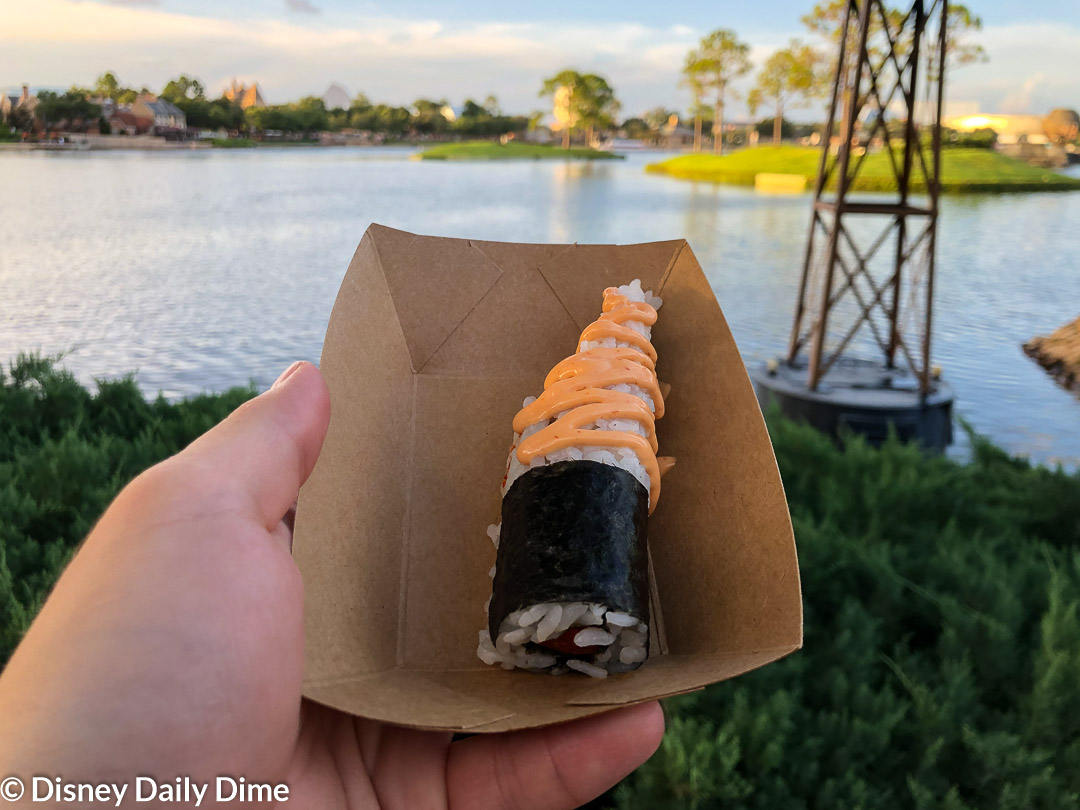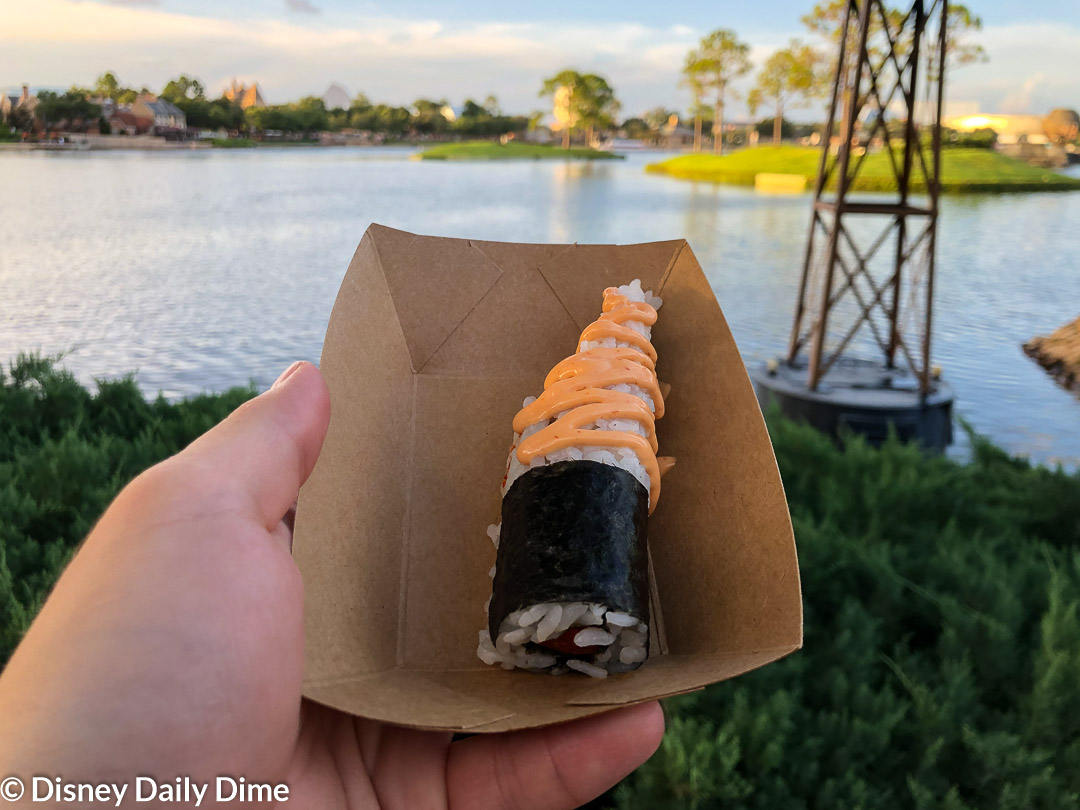 Spicy Roll: Tuna and Salmon topped with Volcano Sauce – $5.75
This sushi roll is something both Elsa and I had our eyes on.  She's become quite obsessed with Sushi, along with shrimp!  The only thing I wasn't sure of was how she would feel about the volcano sauce on it.  To say she didn't like it would be an understatement.  I was shocked, to say the least.  She loves sushi rolls, but after about three bites she declared she was done.  Her big issue with the roll was the spiciness.  Go figure.  Anna did not have any of the sushi roll at the Japan booth.
Elsa not liking it meant more for me! Usually, I would say yay me, but it was more of an "okay, I'll eat it."  Why?  Well, the roll was just okay.  It wasn't something I thought was terrible; I didn't blow me away though.  The tuna and salmon tasted good, and the spice was fine.  I really wanted to be wowed by this.
One thing I will point out is that this roll is served as a hand roll, so it is a bit awkward to share if you don't really like sharing with the people in your group.  Make sure you get a knife and cut it into individual pieces if needed.  It would be helpful if they would do that in the booth.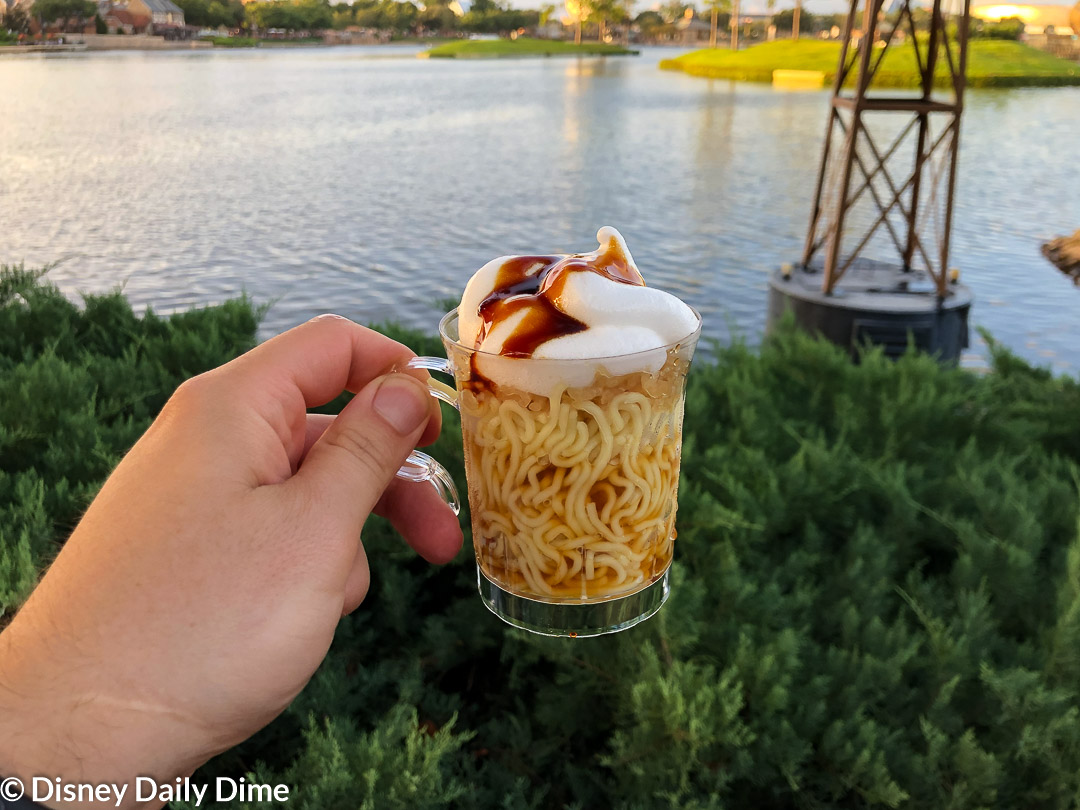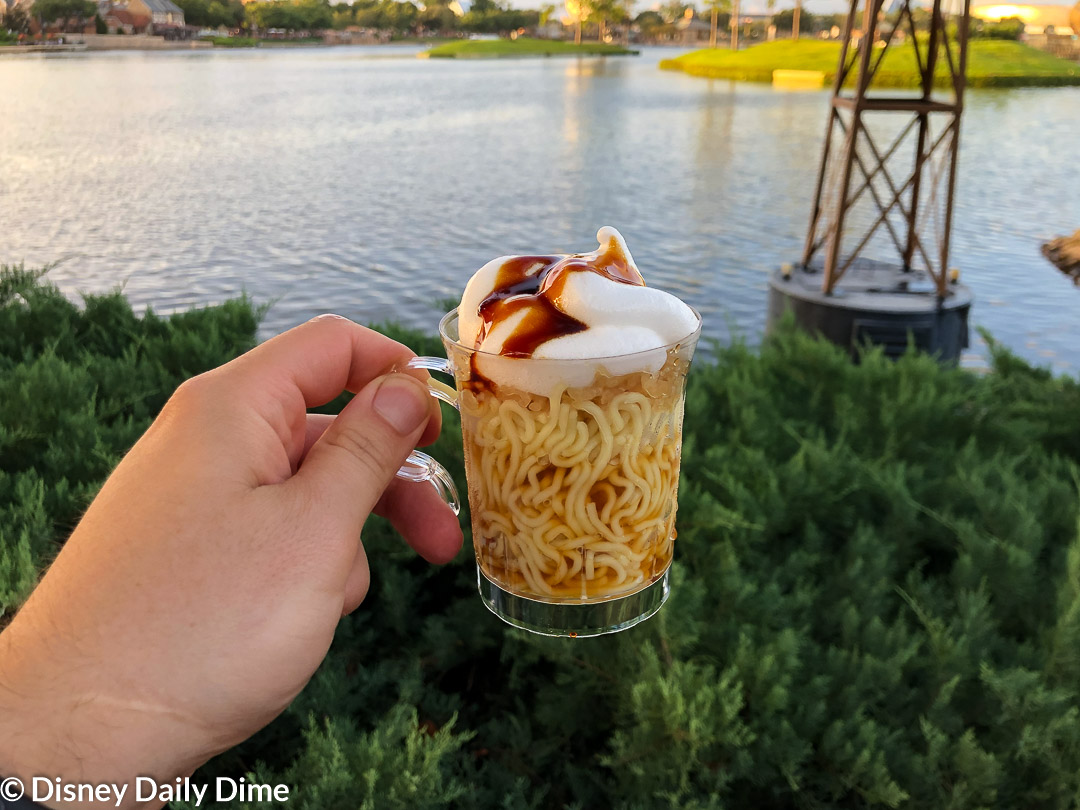 Frothy Ramen: Chilled Noodles and Dashi Broth with a Light Foam Topping – $6.00
The frothy ramen was probably the most adventurous item we had in all of the 2019 Epcot Food & Wine Festival.  As we've read, the Japan booth is usually good for one of the adventurous items each year.  Even ordering it takes some enthusiasm for trying new things.
As for the ramen itself, it was a shock to the system.  The first thing that stood out was that the noodles were served cold.  I'm not a ramen connoisseur by any means, but I was expecting something hot.  No big deal and to be honest, not having hot ramen on a hot August day wasn't the worst thing.
While I can see my way past that, I can't see my way past the overly salty flavor.  The froth was a good contrast to the salty taste of the ramen; however, it didn't need the topping of soy to add more salt to it.  If you do have this dish, try to ration the froth more.  We ate it too quickly with the ramen.  That left us eating the bottom half of the noodles with no froth to balance it out some.  Overall, this wasn't something I would recommend.  If you want to try something different, go for it, but it wasn't great.
While that is my opinion, the real surprise here is that Anna and especially Elsa loved this dish.  Like they ate every last bite of it.  Elsa loved the ramen and saltiness of it.  I was shocked.  So maybe its something a kid could like, but unless you know your kid would like this flavor, I'd still suggest you pass on the ramen.
On a side note, this kids' enjoyment of the ramen led to a long conversation with them about our days as poor college kids eating endless amounts of ramen.  Elsa was so intrigued that we now have several things of ramen in our pantry that she is eating.  This part of the review is definitely not something I would have predicted as we walked up to the booth.  You never know with kids.
Wrapping Up
Hopefully, our review of the Japan marketplace at the Epcot Food & Wine Festival is helpful.  In our views, it's a booth worthy of stopping by and trying something, especially the Teriyaki Chicken Bun.
If you're looking for more of our 2019 Food & Wine Festival booth reviews, feel free to check out our review of The Alps or India review!  Of course, you can find all of them in the blog feed too.  We've been reeling them off the last couple of weeks.